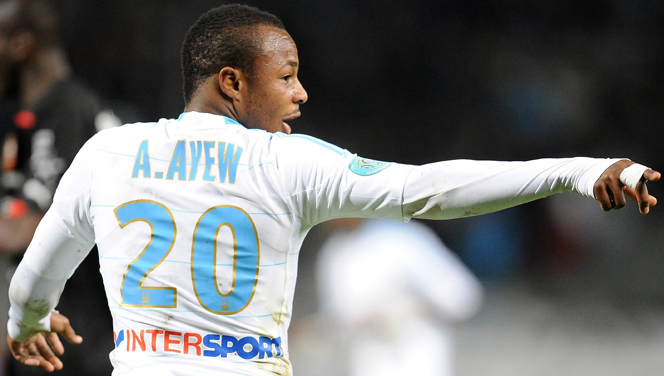 Announced on departure from Olympique de Marseille, André Ayew still does not know much about his future. The Ghanaian international midfielder, currently on holiday after playing the World Cup 2014 in Brazil, still does not know if he will stay in France or not. André Ayew must resume training on Thursday. This is an opportunity for the Black Star to open talks with his leaders about his future.
If the eldest of the Ayew brothers still does not know if he will bear the colors of the Phoenician club next season, one thing is certain, the player has no shortage of suitors. In Italy, Napoli closely monitors the midfielder brought up in OM. The Ghanaian would be in the viewfinder of Napoli.
To believe RMC, the attacker would be the priority of Rafael Benitez, coach of Napoli. His contract ends in June 2015 with OM. André Ayew is still yet to make a point with Marcelo Bielsa to take a final decision on his future. However, a movement to the club of southern Italy would be conditioned the departure of Pandev.
In other words, the future of the Ghana international could be quickly sealed at Marseille or elsewhere as several European clubs are already on the lookout for what will happen in this case. Supporters of Olympique de Marseille will therefore have to wait a little more to see if one of the darlings of the Velodrome will remain faithful to the OM…. or not.