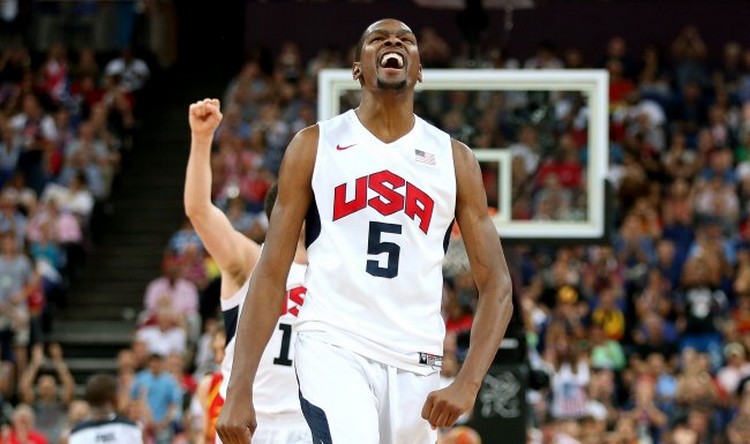 World defending Champion, Team USA will begin its preparations for the FIBA World Cup, Spain 2014 from July 28 through a mini-camp in Las Vegas. To this end, the American Federation has released the list of players selected for various courses.
Mike Krzyzewski and his staff of Team USA convened 19 players out of the list published last spring, for the grouping in Las Vegas (July 28 to August 1). If you notice in this group the presence of Kevin Durant MVP of the regular season, as well as Derrick Rose, the technical staff of the U.S. selection did not accept other big names in the NBA. Thus notes the absence of Chris Paul, Dwight Howard, LeBron James, Carmelo Anthony, LaMarcus Aldridge and Kawhi Leonard, Finals MVP.
The group will be reduced to 12 players before friendlies. Team USA is in Group C of the World, which runs from 30 August to 14 September in Spain.
The 19 players of Team USA
Playmakers
Stephen Curry (Golden State), Kyrie Irving (Cleveland), Damian Lillard (Portland), Derrick Rose (Chicago).
Exteriors
Brad Beal (Washington), DeMar DeRozan (Toronto), Kevin Durant (Oklahoma City), James Harden (Houston), Paul George (Indiana), Gordon Hayward (Utah), Kyle Korver (Atlanta), Chandler Parsons (Dallas), Klay Thompson (Golden State).
Interiors
DeMarcus Cousins (Sacramento), Anthony Davis (New Orleans), Andre Drummond (Detroit), Kenneth Faried (Denver), Blake Griffin (Clippers), Kevin Love (Minnesota).
Team USA preparations calendar
August 1: match between Team USA players (in Las Vegas)
August 16: match against Brazil (in Chicago)
August 22: match against Puerto Rico (New York)
August 26: match against Slovenia (in Spain).