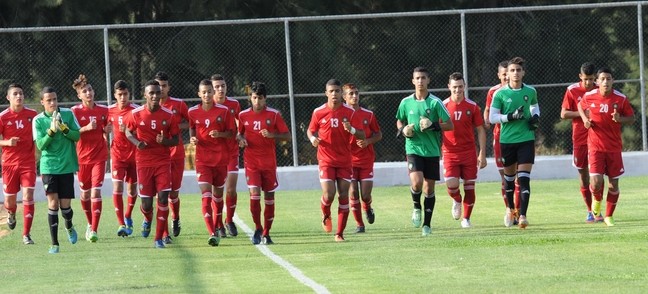 In view of the July 20 meeting as part of qualifiers for the Under-17 African Cup of Nations football, the coach of Morocco disclosed a list of 23 players to face Guinea Conakry.
Beside local-based players, Abdellatif Jrindou called some who play in the European Championships: Saifeddine Sakhi (Chateauroux / France), Zakaria El Badawi (Inter Milan / Italy), Fawzi Mandoudane (Belgium) and Redouane Habbani (Le Havre).
Moroccan cadets have completed their internship Tuesday, July 15 at the National Football Centre of Maâmora. They will fly to Conakry this weekend to face the syli Sunday September 28 from 16 hours.
The group
TALIL HATIM (AMF))
LAAFSSA ZIAD (AMF)
NOUADER ANASS (AMF)
DIFI FAHD (AMF)
HABBANI REDOUANE (LE HAVRE, FRANCE)
BOUSSEFIANE HICHAM (AMF)
BARAKAT REDA (RCA)
NASLI MOHAMMED (RSB)
MOHAMED EL MORABIT (OCS)
YOUSSOUFI EL MAHDI (AMF
ERRAGH YOUSSEF (RCA)
MORSLI SAAD (HUSA)
MANDOUDANE FAWZI (LIERSE, BELGIUM)
BOUSTAN OMAR (RCA)
EL BADAOUI ZAKARIA (INTER MILAN, ITALY)
JOULAL AYOUB (RCA)
IDRISSI ZOUHAIER (AC FAR)
MOUMINE MOHAMED (FUS)
IGHIR ZAKARIA (RB)
TOUMI OSAMA (OCS)
FELLIOUI ADIL (AMF)
SAKHI SAIFEDDINE (CHATEAUROUX, FRANCE)
SALMANE SALAH-EDDINE (AMF)