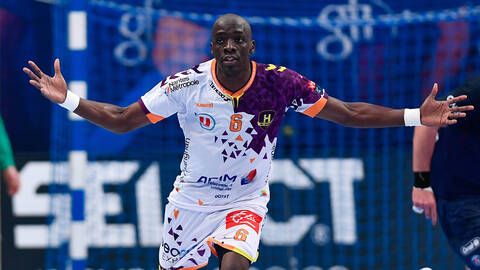 The french world champion , Olivier Nyokas, has been received on Africa Hand United tribune . And the left back of Nantes HBC gave some of the tracks which can help raising the level of African Handball.
First, Nyokas talked about his relationships with DR Congo, regretting the fact that he never has come to the country . That of his ancestors .
"Unfortunately, I have not yet set foot on the land of my ancestors. But I have a special relationship with it because I place a lot of importance on Africa. I have undertaken a lot of research, especially during the Middle Ages here in Europe. What happened, the way in which Christianity was established in Congo by the Portuguese in the 15th century etc …My relationships with the Congo are exclusively through my parents, who have told me about it since I was little, by my family because I still have family in the Congo. The fact that I haven't been there is something that I miss and that will not be long in coming". said Nyokas .
Concerning African Handball, Nyokas listed training, collaboration and technical supervisions among tracks that can help enhacing the level of the discipline in Africa .
"I think it goes through training. Whether it's training players from an early age, good practice habits, training supervisors. So, in absolute terms, it will be necessary to train supervisors so as to have a global project spirit. Let it not be a part of Africa that trains in this way, and another part that trains in another way. We will have to try to have a philosophy, a kind of global program with follow-ups and course evaluations.
It's a process. It's a program that takes time over maybe several generations, it goes through that. Afterwards, I don't want to expose myself as a lesson giver, but in view of what I have been able to see and know during my career, I think that this requires effective technical supervision, structured training and infrastructures.
Afterwards, I say to myself, infrastructure is something that may be secondary, but I am convinced that African players have a lot of quality. And from the moment when the process could take place, there will be very few nations that could stop the African teams. It is a certainty for me". He said with conviction .
Olivier Nyokas and his twin brother Kevynn Nyokas have a common project about Handball in Africa and he said this will come into being soon .