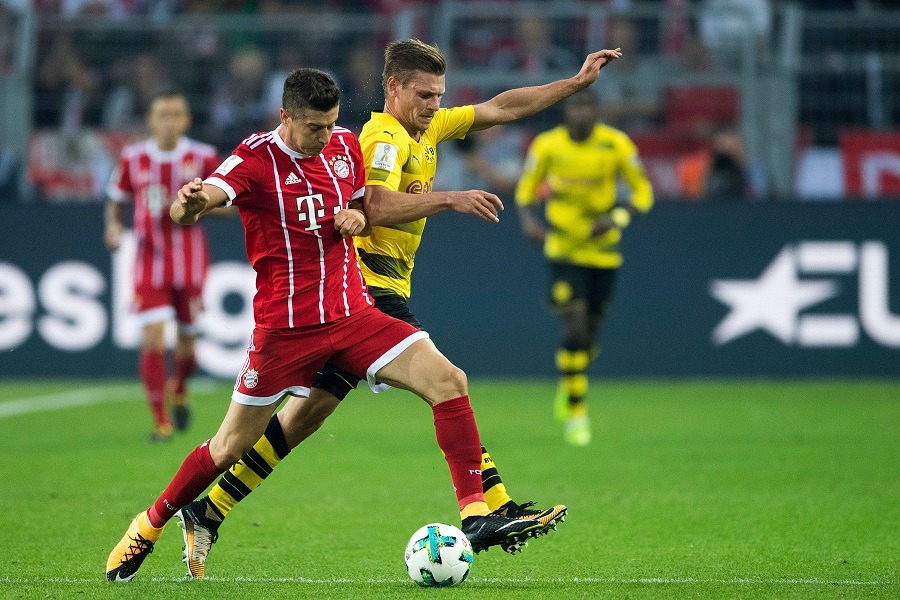 The central game for the 28th day of the German Championship will take place on May 26. Borussia Dortmund will play on their own ground against Bayern Munich.
Who will win?
The upcoming match may clarify the outcome of the championship race or may further confuse the provisions. Bayern is currently four points ahead of Borussia Dortmund.
After the restart of the championship both teams won twice. Borussia successfully defeated Schalke (4:0) and Wolfsburg (2:0).
Lucien Favre's teammates currently play on the 3-4-2-1 scheme where a great role in creation is arranged to the flank players – Ashraf Hakimi and Raphaël Guerreiro. It should be noted that Borussia Dortmund in the game with wolves succeeded without Jadon Sancho in the starting lineup. But against Bayern Munich the 20-year-old Englishman will surely come out. An injured Mats Hummels is also expected to participate in the match and Axel Witsel may return to the starting line-up.
Dortmund is playing well at home this season. In 19 games (all tournaments) they won 15 times and came to a draw 4 times. You can choose a bet – Borussia will not lose again – with good odds of 2.00.
Bet on handicap
Bayern after the championship break beated Union Berlin (2:0) away and Eintracht at home (5:2). Last Saturday the Munich won with confidence but got two goals in the second half after the corners.
The current German Champions have won 16 of their last 17 games (one with a draw) and in the first game they beated Borussia Dortmund at Allianz Arena 4:0.
But the confrontations in Dortmund recent years are generally much more tense. At first glance the bookmakers underestimate the chances of Borussia reinforced by Erling Haaland. You can bet on host with zero handicap and 2.77 odds.
Bets on totals
In 8 of the last 9 direct meetings Bayern Munich and Borussia Dortmund have scored 2.5 goals in total. But this time bookmakers are very convinced that the match in the empty stands will be very scoring. Which is not the fact. Dortmund after the break hasn't missed any goal and against the leader they will certainly try to be very focused and careful.
You can bet on less than 3.5 goals in total with 1.92 odds.
Our prediction
Borussia winning streak in Bundesliga is already six matches. Bayern hasn't lost for a long time either but we think BVB in the next game are not outsiders. 1X – a good option taking into account the ratings offered.
Especially for the readers of our site during registration there is a promotional code AFRICATOPSPORTS which will allow you to receive a bonus on the first deposit not 100% but 130%. And download 1xbet mobile app here: bet with the app easily and quickly.