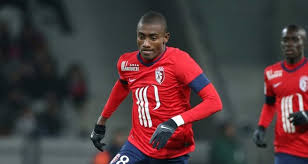 Salomon Kalou , 34 , spent two seasons at Lille between 2012 and 2014 . While Bundesliga's 28th day started today, the Ivorian gave an interview to his former club official site .
Six years have passed since he left the mastiffs , but Salomon Kalou still has a particular love for Lille and follows it growing during last years . Answering to questions of the club's official website, Kalou said it is one of the biggest clubs in France .
"LOSC is a club that always wants to progress. They have passed a level and it is without a doubt one of the biggest clubs in France. They have young, talented players, one of the most beautiful stadiums in Europe and great supporters. It gives me pleasure to see this club progress and I am proud to see LOSC at this level. " said Kalou, pleased to know that Lille will play Europa League next season .
Former Ivory Coast winger declares he will always be a Mastiff and will keep its fans in his heart .
 
"To all the supporters of Lille, I carry you in my heart. As we say, Mastiff one day, Mastiff always! I will be a Mastiff for life. I spent two great seasons here, these are memories that I keep in my memory. Thank you for everything and go to LOSC! " he concluded .
Salomon Kalou left Lille in 2014 and is currently playing for Hertha BSC in German Bundesliga .