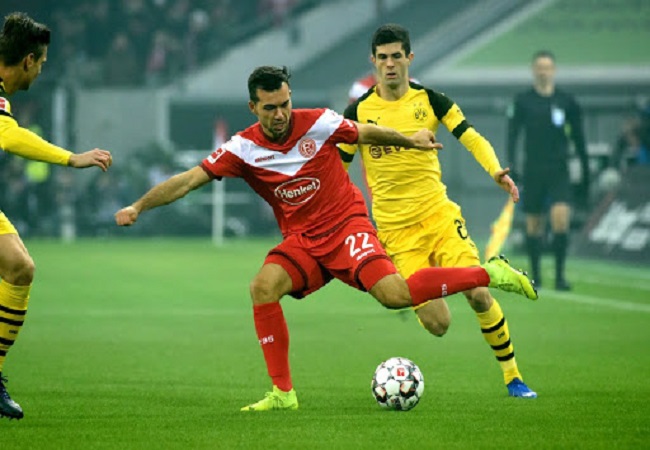 The German championship 31st day game between Fortuna Düsseldorf and Borussia Dortmund will take place this Saturday 13th June. An impressive game in sight.

Ranked 16th in the Bundesliga, Fortuna Dusseldorf is not far from the relegation zone. The club is three point distance from the first relegation that is any other than Werder Bremen. Since the start of the season, they have lost only one game (Bayern 0-5). As for Borussia Dortmund, they won four games out of five, also losing in Munich, but on the tiny score (0:1).
Düsseldorf team lost one game out of eight but won only twice. In four consecutive games, they recorded over 2.5, "both will score" – three out of four. At home, Fortuna looks good and has lost only twice in eight games, the total 2.5 was not played once out of five, "both will score" takes place in six out of eight games. On average, they score two goals per game (after the restart).
In this sector, Borussia Dortmund did not stand out in the last games: three times out of five, they finished a game with the total of less than 2.5. The "over" total outside was hit eight times out of ten, "both will score" – five out of seven. The defense begins to play its score (two scored in five league games). The Ruhr club will again deprive itself of its key asset, Marco Reus.
In confrontation, the total over 2.5 and "the two will score" passed six times out of eight ("over" total – four times in a row). Dortmund is in good shape and comfortably occupies the second position with 63 points. Most likely, the team will keep this qualifying position straight for the group phases of the Champions League. The defense of Fortuna is not very reassuring, so the attack of the Yellows and Blacks might well find the breakthrough in this game – so my bet in this game is the total goals over 3 for 1.65 in download 1xbet app.