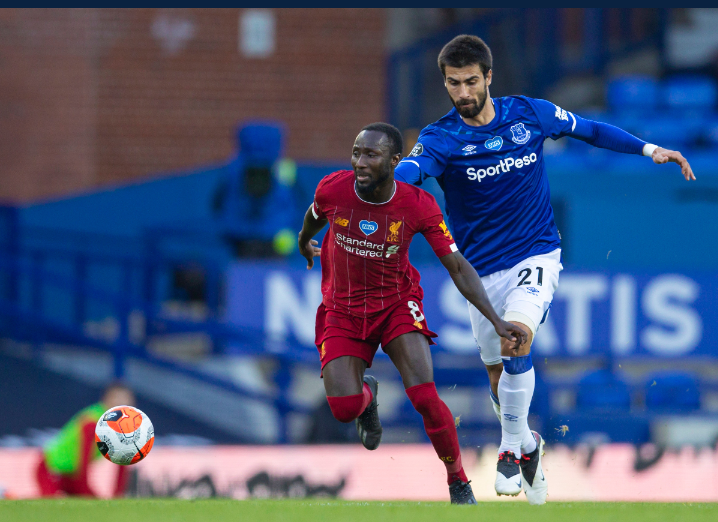 Another exceptional performance against Everton in Sunday's Merseyside derby Naby Keita has been raised by Liverpool manager Jurgen Klopp.

Liverpool Premier League title party was delayed after they failed to defeat Everton at the Goodison Park.

Far from the result, Klopp was awed by the world class performance of his Guinean import Keita who marshalled the midfield.

Describing Keita's performance in his post-match Conference, Klopp said he was impressed by his game.

"Naby was good, the Reds boss began."
 "Taki was good as well. By the way, the change at half-time was a pure idea for me and nothing to do with Taki's performance. 

"He found the game in the first half absolutely and then we thought, 'Come on, why wait until the player gets tired when you get the opportunity?'. 

"Naby looked absolutely good. He looked good in training and it's for sure the reason why he played today. 

"That was the same, you have the opportunity, you have a real quality player on the bench and then you bring Gini Wijnaldum in that situation. 

"It's just you have to try, 'How can you deal with the quality and how can you deal with the intensity of the game?

Speaking on the tight schedule due to the effect of the coronavirus the German tactician said every player must be on it's best.

"We play in three days again. Today if I play 11 players the 95 minutes and they all have to go like they had to go today, then I have a real problem on Wednesday, that's how it is. 

"You cannot underestimate it after four weeks of pre-season and nine weeks break before.
"We play two games in three games, so that's why we have to think a little a bit before we have problems. 

"We tried that and in the end you never will be perfect, that's how it is. 
"But the performance of Naby especially was really good."

Keita had a chance to score after a brilliant play between Matip, but he ended up volleying the ball wide in the 51 minutes of the game.

The Guinea international has scored three goals in 36 appearances for the Reds since he joined the team in 2018 from RB Leipzig.