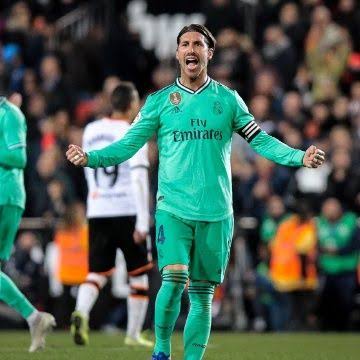 It is generally believed that defenders in football games should be more concerned on how to protect and defend the team for considering goals during games.
Hence, when defenders rises to the occasion and scores for their teams, the celebration is quote different and the goal always seem to be important also for the team.
During awards such as Ballon D'Or, FIFA The Best, and other individual accolades, defenders are not considered much to be contenders.
However, the narratives is gradually changing with defenders stepping up regularly to help their teams to victory and scoring at will.
Such was the case of Real Madrid captain and defender Sergio Ramos who have now etched his name in the history of La Liga.
Ramos scored from the spot to help his team returned back to top of the La Liga summit piling pressure on Barcelona as the Los Blancos hope to wrestle the title from their bitter rivals this season.
It was a victory the Los Blancos have fought hard to earn especially after they blew away their first position to Barcelona just before the league was suspended due to the coronavirus pandemic.
Sunday's victory will never be forgotten in a hurry especially for captain, Sergio Ramos who scored from the spot to put his side in front in the 48th minute.
It was his ninth goal of the season as he has now equalled his goal tally which he set in 2016-2017 season.
It was also Ramos' fourth goal from the spot which has know placed him in the history book as defenders with highest goals in the La Liga.

Africa Top Sports takes a look at what Ramos has achieved for himself as the player with the highest goals and other defenders who also held the record in the past.

1. Sergio Ramos: Real Madrid- 68 goals

The Real Madrid captain now have his name etched as the defender with the highest goalscorer since the history of La Liga.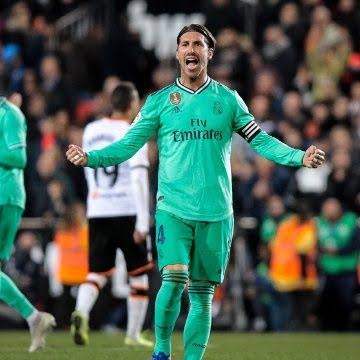 Having joined Real Madrid in 2005, Ramos turned is undoubtedly one of the best defender in the world.

He is ready to sacrifice himself including if he can collect a red card to defend the Real Madrid badge.

Despite being a defender, Ramos eyes for goal and his ability to convert from the spot saw his goal tally keep swelling both for his country and club.

He has now set a new record for other defenders in La Liga to try and break after he shattered former Barcelona defender, Ronald Koeman's record to set up a new record of 68 goals as a defender.

2. Ronald Koeman: Barcelona- 67 goals

Nicknamed Tintin, Koeman's record as a defender in his playing days cannot be overlooked.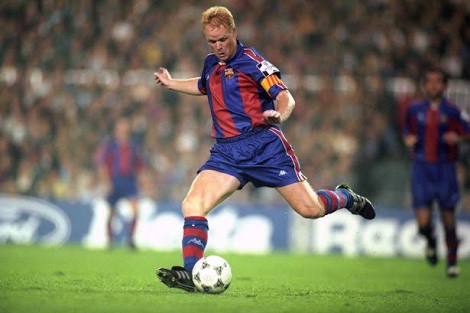 Known for his powerful right-footed free kicks and deadball ability the former Barcelona and the Netherlands international  scored many vital goals for the team.

During his first season at the club, Barcelona won the Copa del Rey, beating Real Madrid 2–0 in the final.
He played a vital part in Barcelona's four years inn a row La Liga title from 1991 to 1994. 

Also, in 1992, he scored the only goal of the European CupFinal against Sampdoria at Wembley Stadium to make Barça European Champion for the first time in its history.

Koeman  became the first player to score in two consecutive finals of different European competitions, having scored Barcelona's consolation goal against Manchester United in the 1991 European Cup Winners' Cup Final.
He will never be forgotten in a hurry by Barcelona fans as he scored for the Catalans in the 5-0 trouncing of Madrid in the  El Clásico at the Camp Nou, with his bending free kick making the scoreline 2–0.

As a defender, he became joint-top scorer with eight goals in the 1993–94 UEFA Champions League, in which Barcelona were beaten in the final by Milan.
3. Fernando Hierro: Real Madrid -60 goals

Another Real Madrid legend who knows how to come to the party for his team when the occasion arises.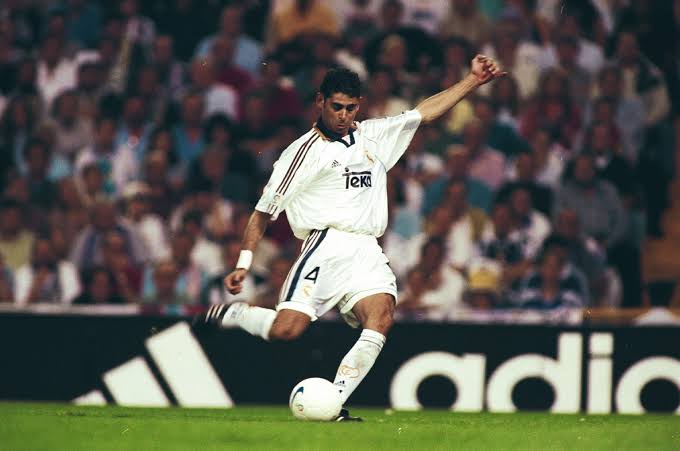 Hierro won five La Liga and three Champions League trophies with Real Madrid over 14 years after signing from Valladolid.

In his first season with the Los Blancos the defender scored seven goals in 37 games.During his playing days, he always partner with Manolo Sanchis and both were thorns in the flesh of strikers.
But he was always getting the goals also for his teamIn three seasons combined he netted an astonishing 44 league goals, 21 alone in 1991–92, a career best.
On 24 March 2002, Hierro scored a hat-trick in a 3–1 home win against Real Zaragoza and was also captain of the team.
4. Jose Martinez Sanchez: Real Madrid: 52 goals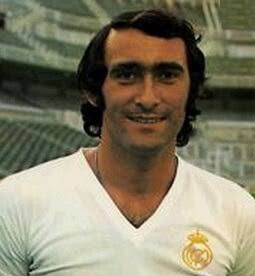 Mostly know by his nickname 'Pirri' someone  who could be described as a utility player having played as a sweeper, midfielder and some point in time forward.
Pirri joined Real Madrid in 1964 at the age of 19 from Granada.
He came on as a substitute in bid first game for the Los Blancos in November that same year replacing Ferenc Puskas in Real Madrid 4-1 win over arc-rivals Barcelona.
In Novemeber, he scored his first goal against Deportivo La Coruna.
He is on record as La Liga fourth defender with the highest goals as he netted 52 goals while operating from the defense.
5. Robert Carlos: Real Madrid -46 goals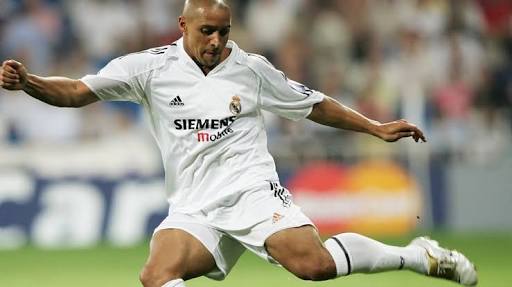 Roberto Carlos da Silva Rocha better known as Roberto Carlos does not need to much introduction save for late millennials.
Carlos was know for his audacious long range shots and his ability to cover the full left flank when at his best.
The former Brazilian international is the complete definition of a defender who has the ability to launch an offensive and when his team losses possession defends aggressively to regain back possession.
He joined Real Madrid in 1996 and was immediately given the number 3 jersey and until the 2006-2007 season, whenever you see a number 3 jersey the first name that resonates is Roberto Carlos.
He is Real Madrid's most capped foreign-born player in La Liga with 370 appearances, after breaking the previous record of 329 held by Alfredo Di Stéfano in January 2006.
in February 1998, he scored arguably his most memorable goal for Real Madrid with a bending volley struck with the outside of his left foot from near the sideline in a Copa del Rey match against Tenerife in what was described as an "impossible goal".
He won four La Liga titles with Madrid, and played in the 1998, 2000 and 2002 UEFA Champions League finals, assisting Zinedine Zidane's winning goal in 2002, considered one of the greatest goals in Champions League history.