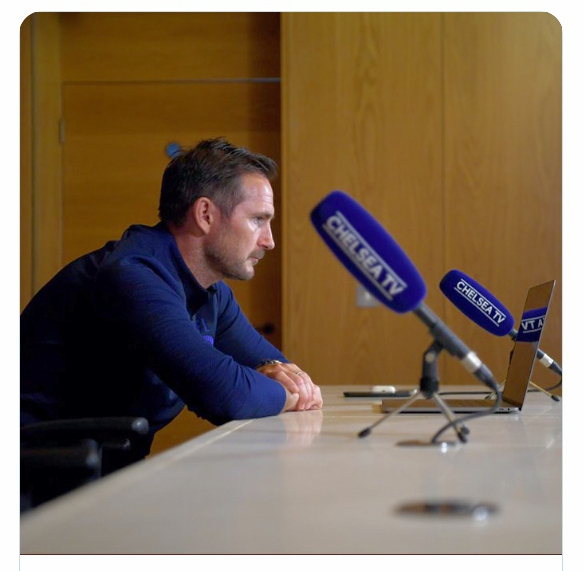 Frank Lampard has urged his players to be in their best of form ahead of their crucial Thursday Premier League against Manchester City.
The Blues will play at home when they host Manchester City with the hope of getting a second consecutive win after the league restart.
Chelsea bounced back in their last game to beat Aston Villa 2-1 at Villa Park.
Lampard spoke via zoom in his pre-match conference ahead of the game and showed respect to his opponent.
The former Chelsea legend also emphasis that the game will be a test of character as he will use it to rate his players readiness to take on any team.
He urged his players to avoid silly complacent that could open up the defence for Manchester City
His word, "When you play a team of Man City's level, you can play like we did in that game where we matched them in general play but if you have a couple of moments where you switch off they constantly will have individuals and a way of playing that gives you problems.
"We'll have to be at our best. We have to take our chances when we get them because we had some up there that we didn't take and we also have to be very vigilant about how we defend.
"The work ethic of the team in a defensive nature has to be huge to try and stop them playing.
"It's a huge challenge. We know that every time we play City but we have to believe in ourselves, be confident and give it our best because if we do then I have belief in this team that they can go up against anybody.'
"We had really good control throughout and the goal was against the run of play. We had to carry on doing what we were doing and we were able to do that and got our goal.
"It was a nice little pointer for us in terms of a bit of character and resilience in the team.
"We can definitely eradicate some of the errors that led us to being a goal down. We've seen a little bit of what we expected to see in terms of tempo and some teams tiring or not firing on all cylinders.
"I don't think we are quite yet so we need to try and get to that level as soon as possible."
Chelsea are fourth on the league table and a victory will see them cut the gap within two to catch up with third place Leicester City.