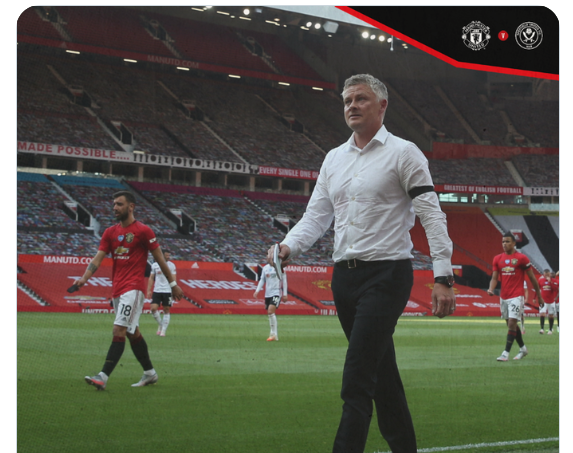 Ole Gunnar Solksjaer says his team aspiration is not just to reach fourth in the Premier League but to go third.
Manchester United produced a world class performance to defeat Sheffield United 3-0 at the Old Trafford on Wednesday.
Anthony Martial became the first United player to score a Premier League hat trick as the Frenchman scored all three goals to put Sheffield United to the sword.
An elated Solksjaer spoke about the victory and the aim of his side who moved two points close to fourth placed Chelsea.
"I've never said fourth is our aim, he said.
"We want to go third or fourth, but we have to focus on each game as it comes. 
"There are two cups [the Europa League and Emirates FA Cup] there for us as well, so one game at a time and hopefully, by the end, we can have the points we need and maybe only have two teams in front of us."
"It's brilliant, and that's what we were saying about the pressing.
"Pressing from the front, the strikers, the whole team is dialled in and we know we have to work hard to earn the win and earn the right to play football.
"If you defend well, you get most of the ball anyway so I'm very pleased with our defensive record." 
Commenting on the clean sheet his side maintained the former Manchester United forward said his players had a good game in both half.

"We played some fantastic football at times. 
"We should have been out of sight earlier. 
"That's the one criticism that I can come with: that we don't go into half-time with a 100 per cent feeling that this is finished. 
"We played a very good second half as well, controlled it, dominated.
"When the opponent only has one shot on target all game, you know you've done some other stuff than playing well. 
"We pressed well, we passed well and ran hard. But we need to score more goals early on, so we can rest."
Paul Pogba returned to the starting line up and was paired with Bruno Fernandes in the midfield.
The Norwegian spoke about his midfielders performance but insisted Pogba has not hit his best form.
"Paul is still a bit away from his best form which is natural because that's his first start since September and he's been working hard.
" So hopefully there is more to come. I thought Bruno showed some quality in the game and it's exciting to be working with talent like this."
Manchester United next came will be against Norwich City in the FA Cup quarter-final.