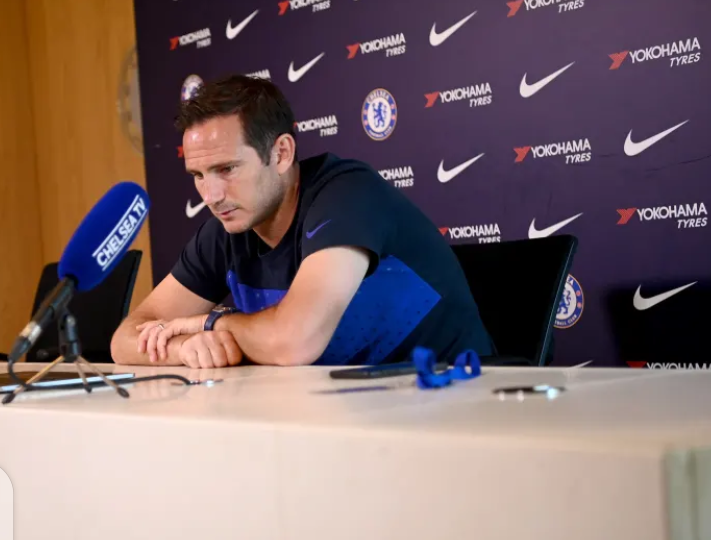 Frank Lampard says he wants his players to focus on every part of their game ahead of Wednesday's London derby against West Ham at the London Stadium.
Fresh from their qualification to the semi finals of the Emirates FA Cup, Chelsea will be looking to extend their unbeaten run in the Premier League.
Lampard answered questions from journalists via zoom and insisted the team will keep working along the same line they have trailed that has earned the victory in their past games.
The former Chelsea midfielder used the opportunity to give an update on his players ahead of the trip to West Ham.
Africa Top Sports monitored Lampard's pre-match conference as the manager began by saying;
I'm happy to win games and with elements of the games, we've played, particularly the first two.
"We have to keep working along the same lines. We have to focus on every part of our game, particularly the defensive and work ethic aspects.
"It's been a mixture of coming to terms with new surroundings, and the very short pre-season we had.
"It's not normal. I know from being a player myself the first one or two games of pre-season you're normally feeling your way in.
"Sharpness is not always there, and sometimes it takes players a bit of time to get up to speed for those fine margins in the game, the extra five per cent that maybe makes games sharper in the attacking sense.
"We have to focus on what's ahead rather than what's gone before.
"We've had a good week but we've got a lot of work to do.'
Lampard also explained how the effect of the COVID-19 has changed his role in the last few weeks.
"I've found it a really nice and interesting challenge, from the start.
"The small-group training actually helped in a way of getting specific physical work in with the players.
"It was testing in a work sense in that we are quite small staff here for a Premier League club.
"We had separate, staggered groups, and to keep it interesting but also practical for the players is work.
"That was something we learned from and enjoyed.
"In the shorter pre-season, the balance of incorporating your physical work and your tactical work together is something you're always trying to find.
"It was even more important in this short time.
"We had great buy-in from the players, with the harder sessions we were putting on, to try and ramp up the intensity quickly.
"They really performed well and rose to the challenge.
"Hopefully we got ourselves in a good spot, and the first few games have shown good energy about us.
"We have hit the numbers we wanted to physically, and also worked on the patterns we want to play.
"Lockdown gave me some really good reflection time on ways we can improve, and hopefully that will show until the end of the season.
"Now the games have started it's more about ticking over between games, keeping the players in the best condition physically, so there is a lot of video analysis with the players because we can't work that hard."
He gave an update on the situation with Christian Pulisic who received a knock in Chelsea's 1-0 win over Leicester City.
"Christian felt a bit of tightness in his calf when he came off against Leicester,' said Lampard.
"We're managing him. I haven't got an answer for him yet, it feels better than it did at the end of the game, so we'll see by tomorrow.
"Andreas Christensen likewise is in the squad, but we will have to see with another 24 hours because of the tight turnaround.'