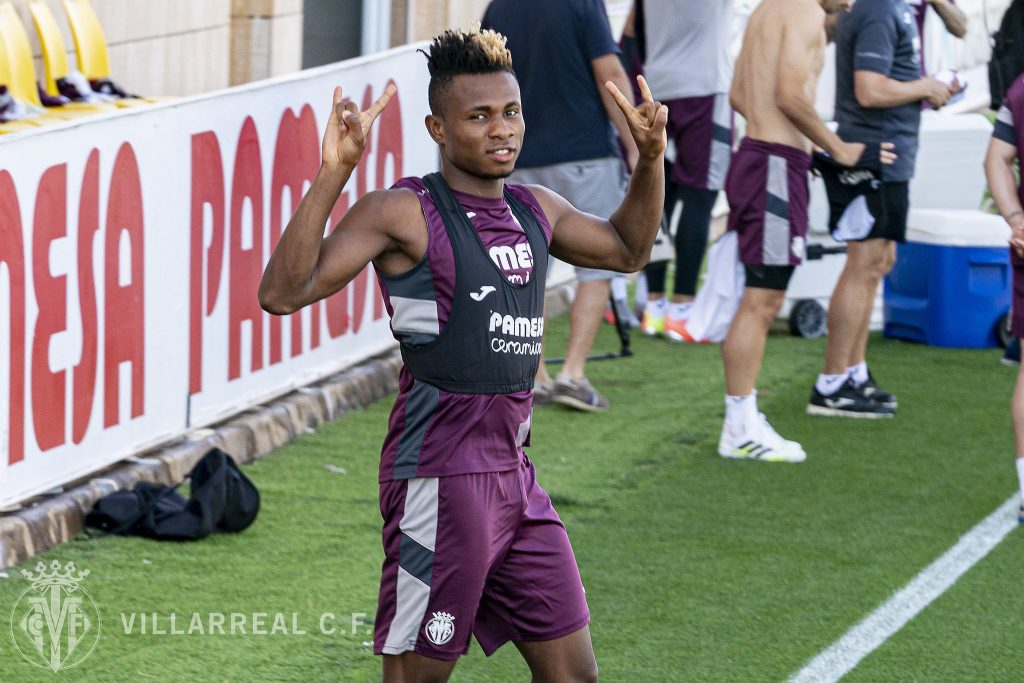 Samuel Chukwueze trained with his Villarreal teammates ahead of their crucial La Liga game against Oghenekaro Etebo's Getafe on Wednesday.
Chukwueze who played full time in Villarreal 4-1 loss at home to Barcelona will be hoping to help his team back to winning ways.
He will go up against fellow Super Eagles player, Oghenekaro Etebo who is back from injury and has been certified 50-50 fit for the game.
The 21 year-old winger has made 33 appearances for the Yellow Submarines and has scored 3 goals and provided 4 assists.
Villarreal are pushing for a UEFA Champions League ticket for next season and a victory on Wednesday night will mean a lot to their push.
To that effect manager Javi Calleja has told his players not to give up on anything that will hinder their Champions League ticket fight.
Speaking in his pre-match conference Calleja said they will fight to be as high up at the end of the season.
"We're not giving up on anything,"he began.
 "We're going to fight to be as high up at the end of the season as possible.
"The calendar is tough. There are 12 points left to fight for and everything is still to be decided. 
"If we beat Getafe, it will be an important step," he said.
He underlined the herculean task in playing Getafe at their Coliseum Alfonso Perez fortress.
"We know the game Getafe are going to give us. 
"We have to be equal to them in intensity because they are a team that competes to the maximum in every moment. 
"We will need to be at our best and delete the Barcelona game from our minds. 
"There's a great prize and stake and everything is still to be decided. 
"It will be a real war and each team will try and use their weapons."
Calleja emphasised on not making errors and controlling the ball as key to win against his opponent.
 "We will have to be focused and play quickly. 
"Getafe are one of the best teams pressing wise in LaLiga and if we play slowly they will punish us. 
"Getafe will put in an extraordinary amount of work. 
"We will try and win the ball back as high up the pitch as possible to finish quickly.
"We can't try and play like them and successfully impose ourselves.
"It will be a really hard game."
The manager also spoke about his defenders being solid.
"It's extremely important for us to try and get a clean sheet. 
"Getafe are a team that you can trust when they're ahead. 
"We will have to be intelligent and keep calm. 
"We won't have to be spectacular, but we can't play their way. We can't play how Getafe want us to play."
Villarreal are currently fifth in the table with four games left of the LaLiga season.
"It's a demanding and intense schedule, but there's a beautiful prize at the end. 
"We're not lacking motivation or keenness. 
"The match against Barcelona was tough mentally and physically. 
"We didn't have the ball and we were overrun. 
"It's not our battle and we've recovered. We know what we're playing for. 
"We've cleaned our minds to get the aim that we've got in our hands. 
"There will be some changes, and those could be decisive," he concluded.
Villarreal has lost just one game from six since the league restart.