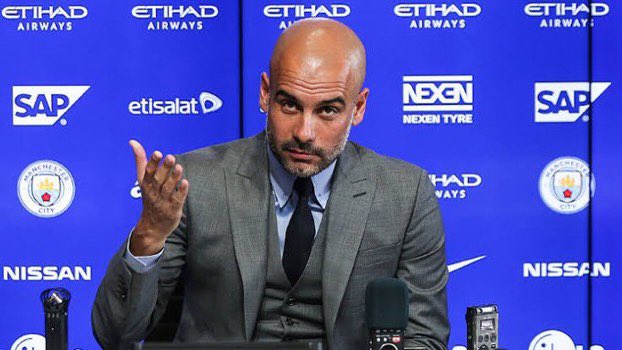 Pep Guardiola said the club owe nobody any apology because it hasn't done anything wrong following the decision by the Court of Arbitration for Sport.
CAS on Monday rescinded the decision by UEFA to suspend Manchester City from the Champions League as well as a £30m fine.
Guardiola addressed the media ahead of Wednesday's league game with Bournemouth as monitored by Africa Top Sports.
The former Barcelona manager Guardiola delivered a heartfelt and eloquent message reinforcing his emotional attachment to the Club.
Guardiola expressed his unflinching love for the club and his willingness to win more silverware for the Cityzens.
For the first time, the former Bayern Munich manager talked about Monday's decision.
He said, "I love this club. I love this club because I know the people here working for a long time.
"We have our history. I love it. I like it and I like to work with the people I'm working with.
"When we do something wrong, I am the first to say we have to apologise or accept the punishment, but it wasn't the case – it was not the case.
"I don't want to apologise for anything. Manchester City don't have to apologise
"Three independent judges decided we have done everything properly. It's clear. So of course, I am going to defend my Club.
"And I am critical of my Club. Internally when I do not like something, I say it to my chairman.
"And my chairman is not happy with me if we finish 23 or 21 points behind Liverpool, but we discuss it internally.
"So, we will try to be better next season and to compete next season but on the pitch."
Asked about how other managers and clubs might feel about the decision to overturn the two ban, Guardiola said its ledt for them.
"I'm a good manager but I don't win titles if I don't have good players and good players are expensive.
"Being a good manager like I am, I'm not good enough without good players. No way.
"I am humble enough to accept that without my players I am nothing. Zero. That's why I need my players.
"Have we spent more in the decade than in the past? Yes.
"But a lot of clubs invest. Manchester United and Arsenal in periods before when they won the leagues,
they invested more than the others, Chelsea too when they won the league, they invested more money than the other ones.
"All the clubs spend a lot of money. Barcelona, Real Madrid spend a lot of money, English teams spend a lot of money
"But we (have) built a club in terms of the past decade to compete with the elite in the Premier League and Champions League – we needed to invest also in the incredible facilities here at the training ground.
"And 20 years ago, Arsene Wenger spent a lot of money to be there as did Alex Ferguson at United. All the clubs spent a lot of money to be there. All the clubs want to be on top.
"For that I need the club to be financially strong – like a lot of clubs – to do it.
"Of course, we make mistakes. But we can spend as much money as our chairman or owners want but always, always in the FFP rules."