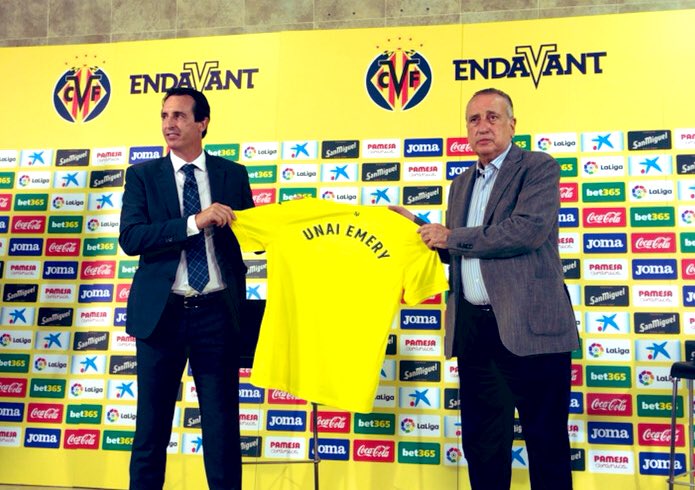 Former Arsenal manager Unai Emery has been unveiled as Samuel Chukwueze new manager ahead of the 2020-2021 La Liga season.
Chukwueze and his teammates booked a place in the Europa League for next season and will now be guided with a manager who have a pedigree in Europe competition.
Emery was unveiled as the to take over from Javi Calleja who guided the club to back to Europe competition.
Villarreal president Fernando Roig presented the former Arsenal manager who signed a three-year contract with the club.
Emery who spoke for the first time revealed his plans for Chukwueze and his teammate in a presentation at the Estadio de la Cerámica, in front of the media.
Apart from expressing his excitement to joining the club, he also noted that the Yellow Submarines will compete favourably to winning the La Liga title.
He said, " Coming to Villarreal is something that really satisfies me. 
"It's an admirable and stable project and for me I'm looking forward to the challenge to continue honouring this club. 
Watch Video Of Unai Emery Unveiling
"I hope to he able to help and have a good time a long the way. 
"I've achieved a number of things, and I want to continue to do so, but the most important thing is enjoying the journey.
"I feel part of the furniture already, I've always been treated well here and I'm excited to take on this challenge."
"I don't think about the end game, but I do dream. 
"Dreaming is free and I dream of a title with Villarreal. 
"The journey is great, being able to enjoy it. 
"The process is great, the process makes people feel proud of being able to live it.
"I identify with the club's philosophy, the culture of effort and sacrifice, that's something that attracts me. 
"I feel like I'm somewhere where hard work is rewarded."
He said he is ready to bring his experience to ensure the club will stay in the top-flight league .
"My first time here was 20 years ago with Toledo as a player, and I came away with a good impression of the club. 
"We speak about a line of work with accidents and with a relegation, but it's a team that is capable of overcoming all of us this and now find itself where it is, and that's what speaks for itself about this club. 
"I want to bring my experiences, my knowledge, I'm somewhere where I feel comfortable. 
"I will need to be demanding. I understand caution, but we also have to dream of taking a step further."
The former Paris Saint-Germain manager Said he will continue with the work his predecessor, Calleja has done.
He also revealed that new faces will be seen in the club to fill the void created by the departure of Bruno and Santi Carzola.
"I'm talking about continuity because it's been a great job so far. 
"Some players are leaving and others will arrive. 
"First of all, I need to adapt to the club and then we will see. 
"There will be a lot of continuity, as they are players who have shown their level. 
"From there, four or five signings could arrive. 
"We need to cover the exits of Bruno and Cazorla. 
"But Villarreal have been solving things like this successfully for years and I'm on board. 
"We have a good block and we need to work hard to improve."
Welcoming Emery to the club, President Roig expressed optimism that Emery will build on the legacy of the club.
"Unai is a young head coach, while being a veteran at the same time, and he comes to continue growing with the Villarreal project. 
"We now have 20 LaLiga seasons behind us in total and we've achieved a number of things, but it's always getting more demanding. 
"Our first aim is to stay up, and from there, there's no limit, it's down to hard and constant work. 
"We're very excited and we have high hopes for the next year."