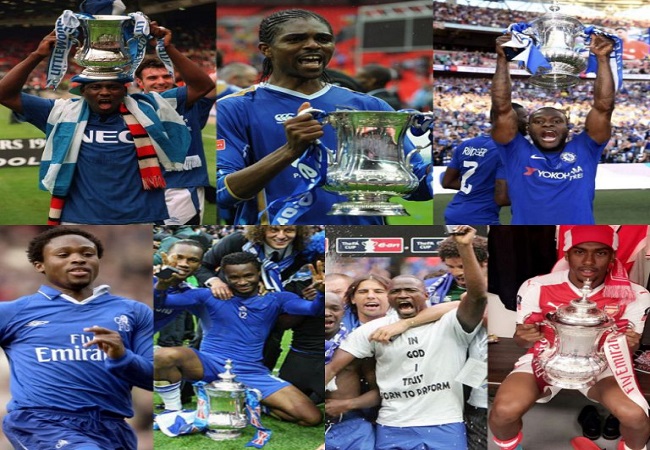 Arsenal and Chelsea are the London two rivals in the clash in Wembley Stadium for the the 139th edition. in No Nigerian players are within the two teams playing this evening. Nevertheless famous Nigerian players won the title in the past history of this prestigious competition with their respective clubs.
Daniel Amokachi, Midfielder at Everton. Amokachi the first Nigerian ever to play in the English FA Cup final at Wembley against Manchester United in 1995.
Celestine Babayaro, Defender at Chelsea. Nigerian defender followed winning the title in 2000 against Aston Villa.
Kanu Nwankwo, Striker at Arsenal and Portsmouth. Kanu was a the three-timne FA Cup with Arsenal and Portsmouth. He won the first in 2002 against Southampton the second in 2003 against Cardiff. The third one came in 2008 Cardiff.
John Utaka, Striker at Portsmouth. He won the title in 2008 against Cardiff alongside fellow countryman, Kanu
Mikel Obi, Midfielder at Chelsea. Mikel won FA Cup titles in 2007, 2009, 2010 and 2012.
Alex lwobi, Midfielder at Arsenal. Iwobi won the title in 2017 against Chelsea.
Victor Moses, Winger at Chelsea. Moses won his own in 2018 against Manchester