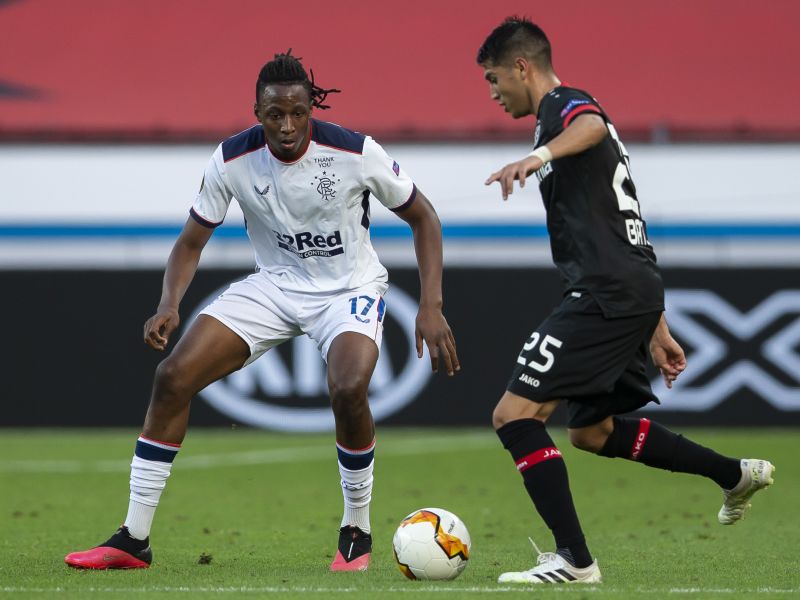 Nigerian international Joe Aribo and his Scottish League club, Rangers FC has been knocked out of the Europa League by Bayer Leverkusen on Thursday night.
Aribo who has been impressive for Steven Gerrard featured for 90 minutes but could not help his side to avoid another defeat at the hands of Leverkusen.
Having loss 3-1 in the first leg of the quarter-final in Scotland, Rangers were hoping to overturn the deficit in Germany.
However a solitary goal from Mousa Diaby in the 51 minutes compounded Rangers' woe as the game ended 4-1 aggregate.
Reacting to the defeat, Ranger manager Gerrard how expressed disappointment per their exit.
He said the real damage was already done at Ibrox in the first leg when they allowed their opponent to win 3-1.
According to www.rangers.xo.uk the gaffer said; "We are disappointed to lose the game tonight, of course we are. 
"You still get the same feeling of disappointment and hurt of course, but you are right, it has been an amazing journey.
"The players have given us everything they have got and have been fantastic at times. 
"At times we have punches above our weight so there is certainly no criticism if you look at the whole journey.
"But there is still a lot we can learn from tonight – a lot of things we can improve on and moving forward.
"We need to make sure we continue to improve individually and collectively."
"They [Leverkusen] are top quality with fantastic players. 
"They play with experience and at this level, they have certainly got more experience than us.
"But at times, we had pockets in the game where we did okay. 
"We had one cleared off the line but all-in-all, we haven't done enough to certainly go through.
"But I am still disappointed we have lost the game.
" I wanted us to be a bit braver in possession, create a little bit more and really show that we belong at this level.
"But we were beaten over the two legs by a better team.
"I think there was a lot of damage done at Ibrox, and again tonight, we haven't managed to keep a clean sheet and that needs to be our base to build on."
Up next for Rangers will be their first home game in the 2020-2021 Scottish League season giant St. Mirrens on Sunday.