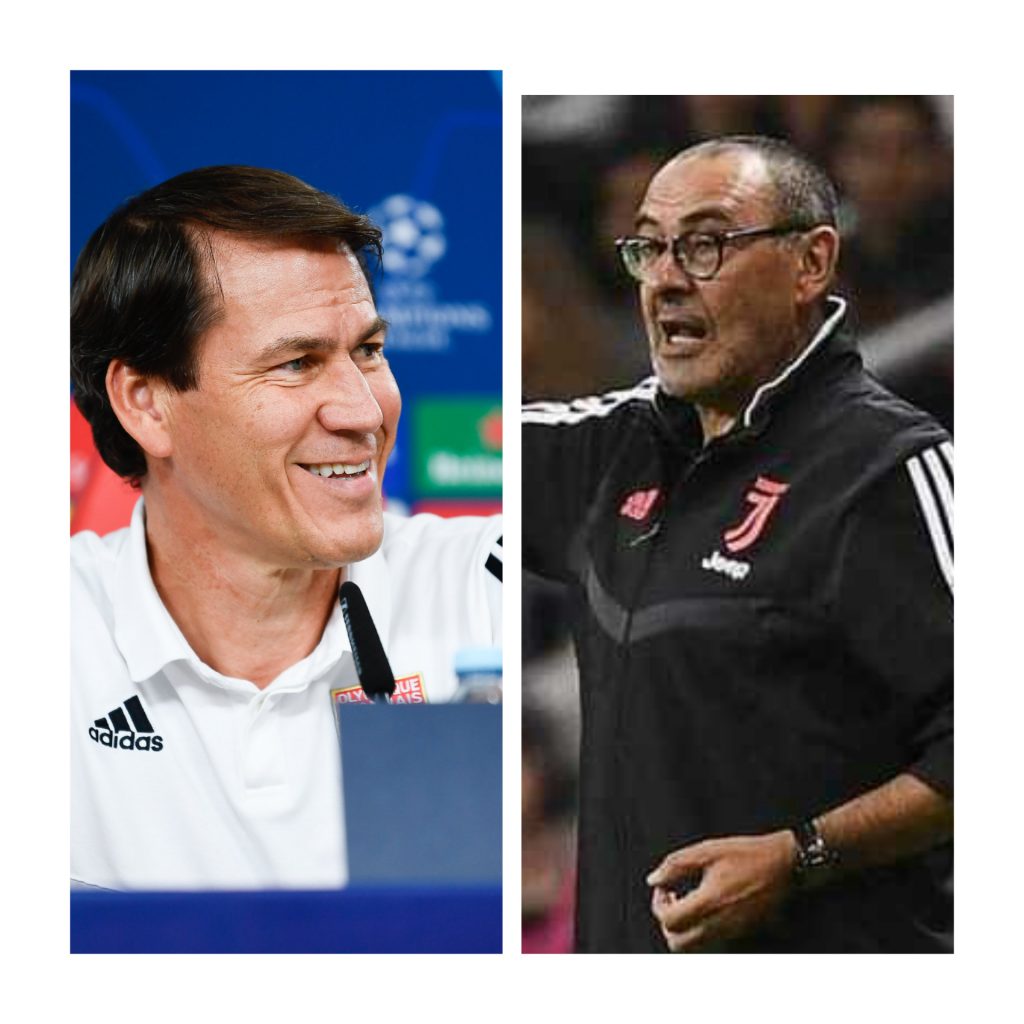 Juventus manager Maurizio Sarri and his opponent Rudi Garcia have been talking tough head of Friday night Champions League game at the Allianz Stadium.
Juventus will host Lyon in the second leg of the Champions League clash and Sarri is confident that there is nothing impossible for his team.
The Bianconeri lost 1-0 in the first leg back in March before the competition was suspended due to the coronavirus pandemic.
Both managers previewed the game and how they hope to prosecute it when their players file out for hostility.
Sarri in his pre-match conference said a great performance is expected from his players.
He also emphasized that Cristiano Ronaldo is available for the game and will spearhead comeback having shown good signs during training.
Sarri said; "Friday will be a game that we will need play with a clear head. 
"A great performance is needed, Lyon has grown a lot and become solid defensively.
" Higuain and Pjanic? They are two players on the rise. Ronaldo is training in the right manner, yesterday he scored an excellent goal in training. 
"He played many games in a short time, he rested a little and now he has trained with intensity and strength.
"We will try to recover Dybala up until tomorrow morning, at the moment he's still training with the medical staff. 
"Cuadrado will most likely start from the first minute, let's see whether it is from the defenisve line or in a more attacking position."
On playing the game without fans, the former Chelsea manager said it will not be pleasant.
"Playing without fans, even tomorrow, will not be pleasant. 
"The most important competition in the world, the Champions League, would need it even more. 
"Let's hope that the right conditions will soon be in place in order for fans to return."
Commenting on Lyon style of play, the former banker said they are efficient in defend and not on the counter-attack.
"Lyon defends with intensity and efficiency and counter-attacks really well. 
"The result of the first-leg allows them to set the game according to their characteristics.
"It will be a very difficult game, but not an impossible one.
"We are happy to have won possibly the most difficult Serie A in history. 
"Now it would be great to go to Portugal and play the Final 8 as it would mean entering the world's élite, " he concluded.
On his part, Lyon manager Garcia said his team are in good shape for the game and qualification to the last eight is in their hands.
"It's all in our own hands, the qualification to the quarter-finals will depend on us. 
"Juventus won the league beforehand; I don't think they'll be tired. 
"The players will be prepared and have the right game tempo. 
"For us it will be a disadvantage, but the game in the French League Cup showed that our physical form is good. 
"It's a shame that fans won't be present.
"We look forward to having them back soon, as football is made to be played in front of fans.
" Juve is a great team and it is demonstrated by the fact that even this year they won the Scudetto. 
"But we won't only want to defend, we will also want to score a goal. 
"Juve have many great players, many stars. Everyone can move the needle; we are humble, but very ambitious: we want to qualify."