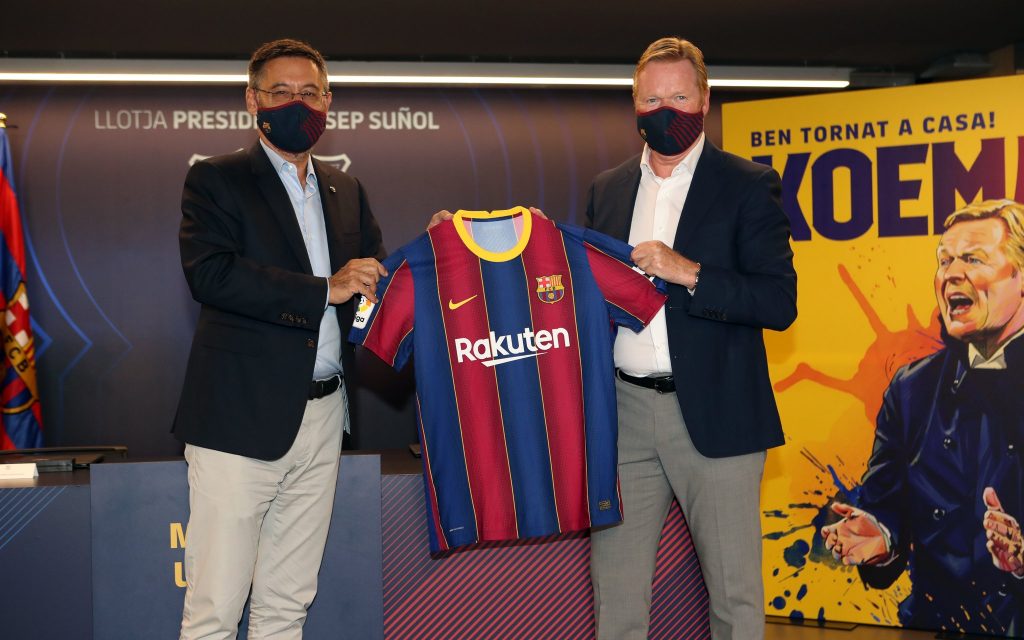 Barcelona new manager Ronald Koeman says the club remains the biggest in the world and will put back to where it belongs.
Koeman signed a two-year contract with Barcelona following the sacking of Quique Setiens on Monday.
The former Blaugrana player who was the Netherlands national team coach spoke with journalists for the first time on Wednesday.
Koeman in his first press conference at the Auditori 1899 talked about how he intend to steer the club back following trophyless season.
He said he was proud to be named as manager of the Spanish giants a dubbed it his return to the team as 'coming home'
Africa Top Sports monitored Koeman's first interview via the club official website. 
 In the press conference Koeman was quizzed on various topics, amongst them, his preferred style of play and what he wants for Barça. 
"It's a proud day. 
"To have the chance to coach Barça is not an easy task because it is very demanding but I like that.  
"We will work hard to strengthen the team, make changes and put Barça where they belong. 
"We are still the biggest club in the world and to be coach is a dream come true.
On his style of play, the former Everton manager said;
 "As I'm Dutch, I like to have the ball and control it. 
"To play good football. 
"I have been a coach for a long time and I have learned a lot. 
"I am ready to coach Barça at the highest level. 
"Football is to be enjoyed and that is the first thing I will say to my players. 
"If you don't enjoy yourself, you won't get the best out of yourself."
On the field
"We will have to look to have the strongest squad possible and try to do the best for the club and the team. 
"From today we will get to work and if decisions have to be made, we will make them." 
"In general, what has to change is that the team has to play with more intensity. 
"What I most value in a player is the desire he has to move forward. 
"I only want to work with people who want to move forward and give everything for Barça." 
"I think it is the moment to give opportunities to the young players who deserve it. 
"We are not afraid, if they are can prove they are up for it. 
"I think they have quality but it is also true that you have to have balance." 
On Leo Messi
"Messi is the best in the work and it's obvious I want him in my team. 
"As a coach I am really looking forward to working with Messi. He wins you games." 
On De Jong
"For a player to come to Barça so young, like De Jong, is difficult. 
"Despite everything, he has great performances. 
"You have to take into account that he has not played in his position as well. 
"For me, the most important thing is for each player to find their best position, that's how you get the best out of themselves." 
His contract
"I have a two year contract and I know that there are election but I have to do my job, that the team plays well, wins and people can enjoy it.
"I will be focused on that." 
The new coach was welcomed by president Josep Maria Bartomeu who added:
"I think this was always on the cards, that he would coach Barça one day. 
"He has the charisma, the experience, he's brave and he loves Barça."