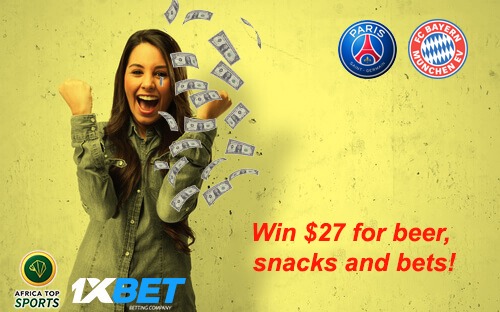 This is the last big battle! The final of the UEFA Champions League, season 2019-2020. Long awaited by all football fans on the earth, this Sunday it opposes Bayern Munich to PSG. Who will win it?
We do not know yet, although for many, the Germans are favorites as they gave what they were able to demonstrate in the competition until the semi-final. The humiliation inflicted on FC Barcelona in the quarter-finals (8-2) will be remembered for a long time.
While waiting to know the winner, Africatopsports and its partner 1xBet offer you the opportunity to win 27 US dollars.
Do you want to win? You just have to predict the match score. To do this, you just need to:
REPUBLIC this message with your prognosis (required);
Or of:
Create a new 1xbet account here and earn an additional 27 US dollars as a bonus for betting (optional).
You can do this via the link: https://www.facebook.com/africatopsports.ats/?ref=page_internal
Note that if there are several correct predictions, the winner will be chosen with a random number generator.
You can participate in the lottery until this Sunday at 1:00 p.m. The winner, it should be remembered, will be known on Sunday at 2 p.m. in our group.