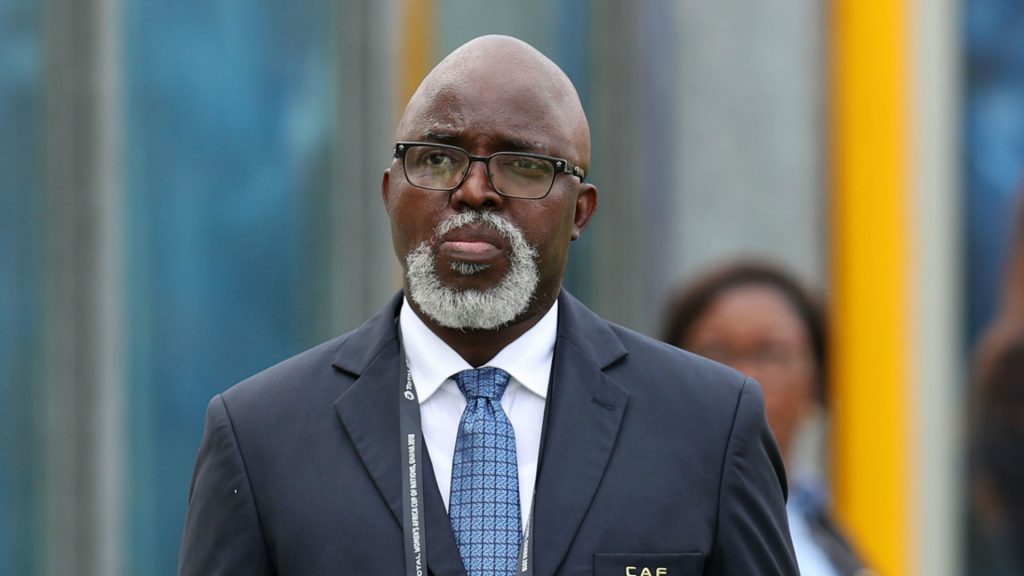 Nigeria Football Federation (NFF) President Amaju Melvin has assured that a new technical director in Nigerian football will soon be announced.

There has been a lacuna in the position of a technical director in the nation football.

Pinnick while briefing Nigerians  in a statement made available via the official Twitter handle of the NFF on Wednesday said they are making extensive consultations.

 "On the vacant positions in Nigerian football, I'm hopeful that a Technical Director will be announced soon, as we are still having extensive consultations.

"With regards to a Coach for the Super Falcons, Africa's biggest female football team, Phillips Consulting, in charge of the recruitment process, are putting finishing touches to it and a Coach will be announced soon. 

"This also applies to Coaches for the different cadres of our National Teams.
"I'd like to ask that you tarry with us a while."

He also added that there are plans to develop the domestic league with reputable deal that will see the league empowered.

"On the home scene, we have been working diligently to develop the league and I'm happy to say the League Management Company has signed a massive deal with a reputable organisation that should see the clubs and the league get empowered. 

"Also, the vacant position of the Chief Executive Officer for the league has been filled and will be announced in the coming days.

"A few days ago, top members of the NFF Executive Committee had a vrtual meeting with NIKE, our kit makers, with regards to the new kits for the 2022 World Cup and all I can say now is".

On the new national team kits that will soon be unveiled, Pinnick said the new jersey is very beautiful.

"The new designs are truly beautiful and will thrill the world again.
 
"Sincerely I cannot wait to see our male and female teams adorn them.

"Now, let me use this opportunity to thank the members of the NFF Executive Committee.  

"They have not only become friends but they are now more than family to me. 

"Collectively, we labour to improve the fortunes of football in Nigeria."
Amaju took time to thank President Muhammadu Buhari, Minister of Sports,  Dare Sunday Dare and the Executive members of NFF for their support. 

"To members of the Congress, I'd like to say a hearty "Thank You" as well. 

"They not only support the drive but the mission, vision and direction of the Board. 
"I cannot thank them enough.

"To the Ministry of Youth and Sport Development and the Honourable Minister, Mr. Sunday Dare; thank you, boss. Your direction is flawless.

"To both Sport Committees in the National Assembly, we are indeed grateful for your guidance and immeasurable support.

"I'd also like to thank the Federal Government of Nigeria and President Muhammadu Buhari. 

"The support for our work, football and sports in general is truly wonderful.

"To our sponsors; thank you.
"Without you, I truly wonder where we would be now.

"AITEO in particular; I doff my hat."
"Thank you."

He also thanked all the health workers who are in the frontline in the fight against COVID-19.
"COVID-19 is still with us and it us important that we follow all health protocols and advisories diligently.
 
"I would like to recognize the true heroes of this fight, our frontline workers; the doctors, nurses and health professionals.

"Words cannot express my gratitude to you, he added."

"Finally, I'd like to ask Nigerians to continue to keep faith in us. 

"We are not perfect and we certainly have had a few missteps now and then but we always try to do our best. 

"Criticize us because that's the only way we can get better but always support us.

"We definitely rely on your support and never take it for granted.
He noted that the dream for the national team is to win the 2021 Africa Nations Cup.

"The dream is to conquer Africa at the next Nations Cup and qualify for the World Cup in 2022.

"I'm certain, with your support, we will get there.

"Again, thank you for your time and prayers.

"God bless us all, he concluded."