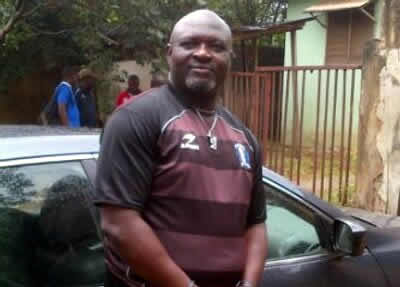 Former Super Eagles goalkeeper Ike Shorunmu has revealed how Ajibade Babalade was rejected by a private hospital before he died.
Babalade, former Super Eagles defender died on Friday in Ibadan from cardiac arrest.
However, his former teammate at the AFCON 1992, Shorunmu revealed 'Kunde' as he his fondly called died at the gate of University College Hospital (UCH), Ibadan.
According to Punch newspaper, Shorunmu said a private hospital declined treating the former Shooting Stars captain.
He said, "The first hospital he was rushed to in Ibadan, he was rejected by the doctors and referred to the University College Hospital. 
"But on his arrival at the UCH premises, he gave up the ghost at the gate. May his soul rest in peace.
"I went to the mosque for Jumat service this (Friday) afternoon, so I switched off my phone. 
"Immediately I put it back on, I got a message from Ajibade's in-law that I needed to be at his place. 
"So, I went with my wife, but on our arrival, the (Babalade's) family broke the news to me now. 
"This is someone whom I spoke with two days ago (on Wednesday), when he celebrated his son's birthday.
"I was told he had a cardiac arrest in the (Friday) morning. 
"I had to console his wife and kids, who are in America, over the demise of their father. 
"He died at the UCH gate, Shorunmu confirmed."
The Nigeria Football Federation in a message via it's official Twitter handle confirmed the demise of the ex-international.
The statement reads as follows;
"We are sad to announce the shock demise of former @NGSuperEagles defender Ajibade Babalade. 
"Babalade died of cardiac arrest today in Ibadan. May his gentle soul Rest In Peace. 
"Our prayers are with his family."