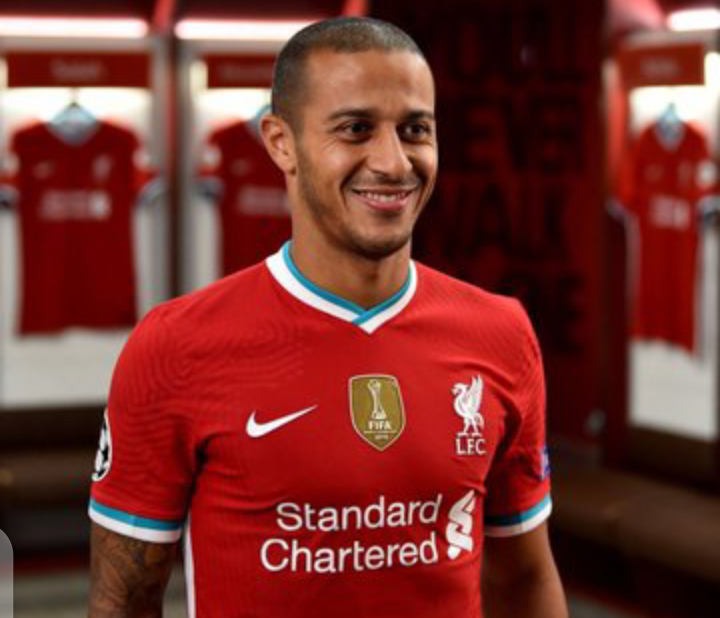 Liverpool new signing Thiago Alcantara has revealed that Phillipe Coutinho and Xabi played a crucial role on his decision to join the club.
The midfielder became Jurgen Klopp second signing of the summer following the transfer of Kostas Tsimikas.
Thiago who joined Bayern Munich seven years ago won the Bundesliga league, DFB cup and Champions League treble with the Bavarians last season.
The Spaniard spoke with Liverpoolfc.com shortly after signing his long-term deal on Friday about his ambitions and dream.
He went on to reveal that Alonso and Coutinho encouraged him to make the decision that brought him to Anfield.
"I think this club describes what I am as well, he told Liverpoolfc.com
" I want to achieve all of the goals, win as many trophies as possible.
"It also [has] this kind of family [feeling] that I need because we [like to] have a very close relationship with the club and I think I will feel this, I will have this feeling, with this club as well.
Asked if he spoke to anyone before coming to join the Premier League champions he said;
"Yeah, for sure. More than the football aspect because in the end, Liverpool is what it is for the last years, the last decades.
"They were amazing, they performed and it is raising every year as much as you can, as much as they can, as much as we can, is what I should say.
"More than that, it is the family aspect, the life aspect – how is the city? Where to go.
"How was the life [here]? People like Philippe Coutinho and Xabi Alonso helped me a lot to take this last step. It's really good.
On how his style of play can suit that of his new club, he said he will adapt to it fast.
"First off, for sure I think I must adapt to the team as fast as I can in the situation and the context that we are living right now.
"Everything is more compact and we started a little bit later,
but still it is football and I think we have to mix all the big things up,
all the good things we have. I will help the team in a defensive and offensive [way] and also in a mental aspect.
On his perception about how people describe the Premier League as a tough one, the former Barcelona midfielder said he is excited.
"For sure. That was my first idea when it became [apparent] I could play with Liverpool.
"I got excited with that idea to play in the Premier League. In the end, it is football."