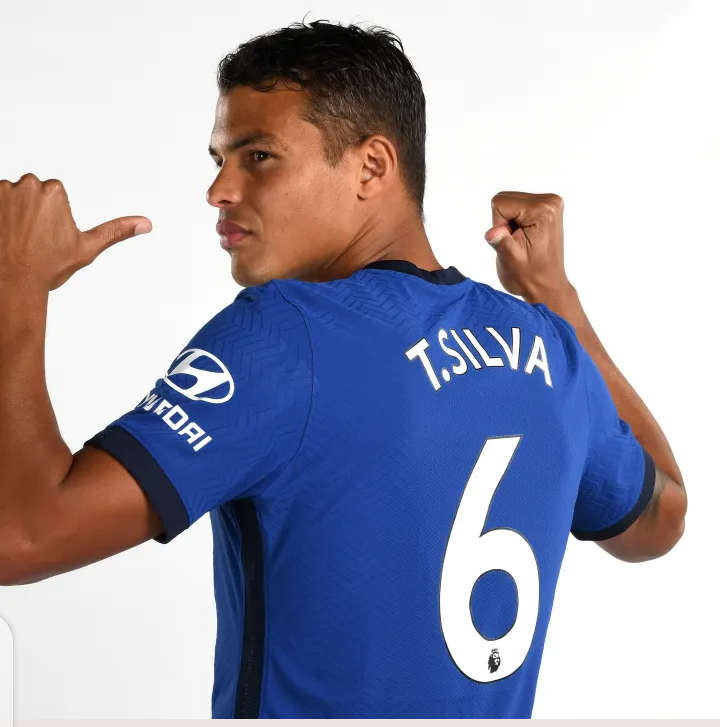 Chelsea new signing Thiago Silva has set his eyes on wining the Premier League title with Chelsea this season.
Thiago who signed for Chelsea from Paris Saint-Germain is yet to make his debut and watched from the stand while Liverpool defeat Chelsea 2-0.
The Brazilian spoke with Chelsea media on what motivated him to join the club and his target.
He said what he thinks about is stepping into the game and keep winning .
"What motivates me, day by day, is the hunger to win.
"To win everything within my reach. Coming to the Premier League,
my main goal is to win the league title and I'm certain that we'll be fighting for that every step of the way.
"The team is really strong, we've got a great coach and I've come here to contribute in whatever way I can to ensure that we get as close as possible to achieving those aims.
"That's what motivates me: stepping out onto the pitch, and then winning, winning, and winning some more.
"I don't think about anything else."
The former AC Milan defender said he still wants to be part of the Brazilian squad for the 2022 World Cup.
Although he will be 38 by then, but said he wants to remain in good shape to be included.
"As I've said before, the prospect of playing at the next World Cup is another thing that really drives me.
"I'll be more or less 38 years old by the time of the next World Cup and I'm hugely motivated to be in good shape for it.
"The work that I'm putting in to make this a reality already started a while back and now Chelsea have given me a great opportunity to continue playing at the highest level.
"What Chelsea represents to me is a source of great happiness and motivation to be a part of a new project, a new family and I hope that this will be a very special year together.
Asked how it will mean for him to play his first game in the Premier League, the defender said, "I really can't wait.
"I have to try and hold it back but it's almost uncontrollable because this is a unique opportunity for me.
"Normally, at 35 or 36 years of age, it's the time when players leave the Premier League but I'm doing things the other way around – I'm only just starting.
"The way I see it, it's the toughest league in the world, with six or seven big teams genuinely fighting for the title so the motivation is massive.
"I'm hugely impatient to get going but things will happen in their own time and there's no doubt I'll be totally prepared when the time comes."
Frank Lampard could hand the defender a starting jersey in their Carabao Cup match against Barnsley to get him in shape head of this weekend Premier League game.