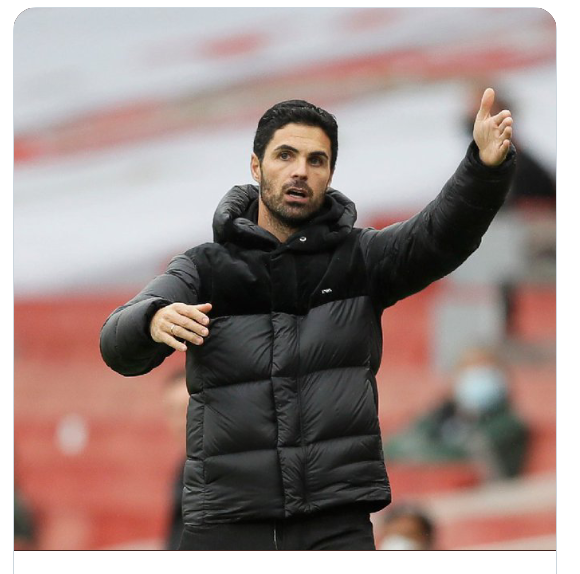 Mikel  Arteta is not ruling out the possibility of top four finish with Arsenal after another impressive 2-0 win against Sheffield United
Africa Top Sports
reports.
The Gunners returned to winning ways after their 3-1 loss to Liverpool in the Premier League last week.
Goals from Bukayo Saka and a 19 passes that lead to the second goal by Alexander Lacazette was all the Gunners needed to fired through the stubborn Blades.
An excited Arteta when asked the possibility of a top-four  told
www.arsenalfc.com
it is doable.
He said, "Well there's a lot of things that you are saying that have to happen over 10 months, but that is the challenge we have. 
"Every week they get a lot of feedback, we try to coach them the right way.
" We try to give them the right environment to grow and feel comfortable at our club but after there are moments.
"They are moments personally, there are moments of confidence, 
there are moments where you play more or less and you have to sustain that throughout a season with 24 or 26 players and that is the challenge that we have ahead of us, 
whether we can do it or not."
Commenting on the quality of his players, Arteta said, he is happy about them but will also want to improve them.
"I am really happy with the players that I have. 
"My job is to improve them, this is the job, and to focus on the players that I have and the staff that I have here. 
"To make this place better, you know? Whatever we can add, we can improve of course.
"We will try to do it but we have to be realistic as well about how much we do in a certain period of time. 
"Honestly, my energy is in the people that work alongside us, we are all willing to help. 
"They are all really supportive of me and I can only thank them. 
"It's a give and take between us. Whoever jumps on the boat will be welcome because we will believe that he is adding something here.
" Whether it's a player or a staff member or whoever. 
"I can say that I think now that we all share the same ambitions first and we have a very clear direction and purpose to drive the goals that we want to achieve right now."
The Spaniard also felt happy for his players adaptability to a new style that was different from the game against Liverpool.
"What I liked today was that we adapted to a very different scenario that we face din the last two games against Liverpool, it was a completely different game. 
"I am happy with the way that we played the game that we had to play. 
"We had the right patience, we created the right moments in the game when a lot of space started to open up in the second half.
" We scored two great goals and when that happens we need to improve to score the third one and then the game is gone. 
"In the Premier League, the first time they got near our box, they scored a goal and then you have to hang in there and I don't want to suffer as much because I lost my voice!"
Asked his message to all Gunners supporters, the former Arsenal midfielder said the management is doing everything to ensure the fans are happy.
"I think that I always try to be really honest and clear. 
"Believe me that the ownership, the board, myself, are doing everything we can to maximise the resources we have to improve the team and to sustain and keep the players that are in this club to make this club successful. 
"I have 100% backing from them. It's not just words, it's reality. 
"Whoever knows me, if it wasn't like that I wouldn't say it but I say it because I feel it and it's true."