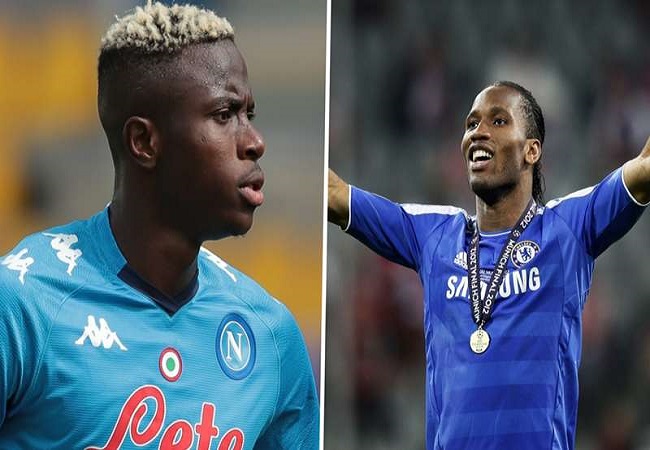 Napoli striker Victor Osimhen has referenced the Ivorian legend for influencing his career. Chelsea striker Didier Drogba would have helped him become a better player today.
Arriving at Napoli this summer from Lille, Victor Osimhen played two Serie A matches with his new team, without scoring. But his fans have been highly awaiting him this season in order to justify his transfer cost and his great Ligue 1 performances.

The Super Eagles praised Didier Drogba. Osimhen explained that he grew up watching Drogba play. He added that the former Ivorian attacker was a role model to him. The 21-year-old Nigerian international declared to have 'fallen in love' to the way Drogba played. And that Drogba had a major impact on his game.

"I grew up watching Didier Drogba play. He was an example for me." Osimhen said on the Napoli YouTube channel. "One day I was training and a man called me asking if I knew who I play like. He told me to go to YouTube and see Didier Drogba."
"There I fell in love with his way of playing and the kind of person he is. From that moment, seeing Drogba play had a major impact on my game and helped me a lot." He Added.
Drogba's accomplishments at Chelsea and beyond saw him claim the African Footballer of the Year award twice (2006 and 2009). And Osimhen also has a desire to win the accolade which his fellow Nigerians in Nwankwo Kanu and Victor Ikpeba have been recipients of as well.
"My dream is to win the award for the best African footballer of the year." He continued.
"I still have a long way to go. And I am working towards this goal. I think I'm on the right path. It won't be easy. But, as a person, having a family would be a dream. But I still have a lot of things to do. So I don't think about it now. Football is the only thing on my mind now. I want to focus on this here in Napoli. There are many expectations for me and I will do everything to live up to it." He concluded