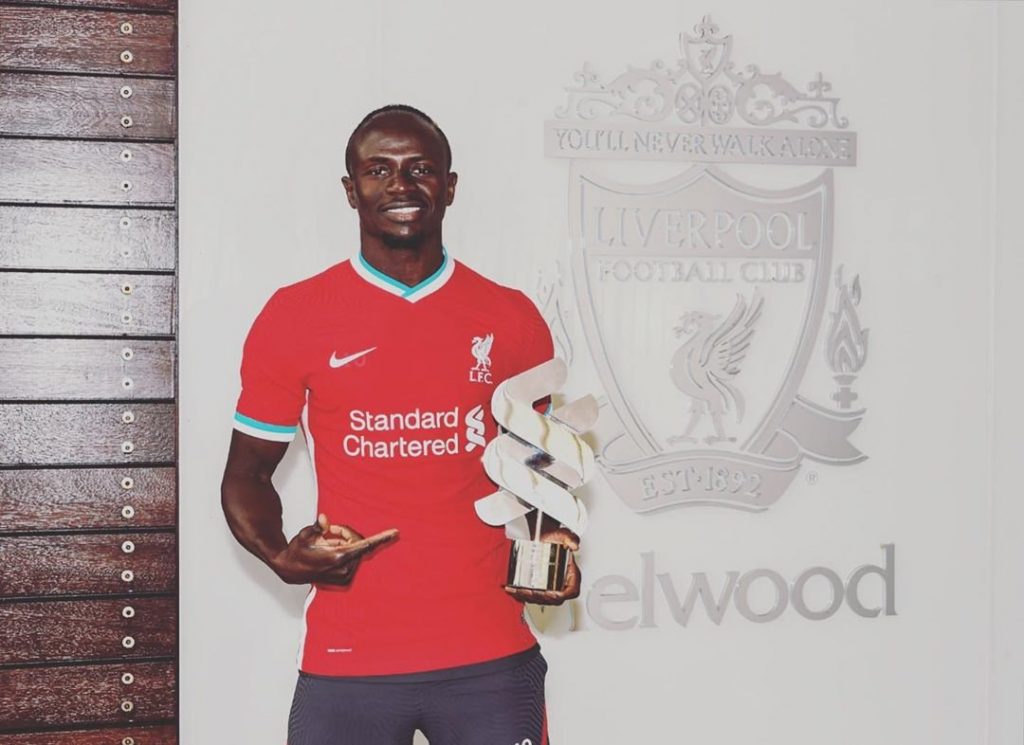 Sadio Mane has been named as Liverpool's Standard Chartered Player of the Month for September following his excellent performance.
Africa Top Sports learnt from liverpoolfc.com that Mane beat off competition from Mohamed Salah and Fabinho to scoop the award.
He netted three goals in the month as Jürgen Klopp's side won each of their three Premier League fixtures to start their title defence.
The Kops No.10 double gave Liverpool a 2–0 wins against Chelsea before he also scored against Arsenal at Anfield.
According to liverpoolfc.com, the forward's form saw Mane clinch the highest number of votes in the club  Player of the Month poll.
Walsh finished second while Brazillian midfielder Fabinho was voted as third.
The Senegalese forward absent due to covid-19, saw Liverpool fumbled to a 7-2 defeat to Aston Villa before the international break.
Mane while receiving the award thanked all Liverpool supporters and said the team is ready to give their best and win their game against Everton.
"Thank you, I'm really happy to be named Player of the Month, he told club media.
"I think it has been a fantastic couple of weeks for us – me and my teammates. 
"It's really important for the team.
"We finished by losing against Aston Villa, which was a little bit of a disappointing result but it's part of football. 
"We just have to deal with it and prepare for the game tomorrow and try to do our best and win the game."
He added: "I just want to say thank you to all the fans and to just say the hard work will begin now and as a team, we do everything possible to make them proud – by starting tomorrow."
Mane will be available for the Merseyside derby against Everton at the Goodison Park and he said he is excited.
"You can't expect a better fixture than that!" the forward tells Liverpoolfc.com.
"It's many things. We know how a derby is – Liverpool against Everton is always tough and always a tough game away. 
"I'm excited like my teammates. 
"We can't wait for it and I think all the fans also can't wait for it.
"I'm very happy and excited to go again with my teammates to do our best and try to win games again."
After testing positive to COVID-19, the forward said it was tough for him, but happy to be back.
"It was a tough moment for me – not only me, the situation right now is a bit complicated," Mane reflects.
"When I was positive I was surprised because I don't know why I got it.
"I tried to recover as [quickly] as I can and finally I'm back and I'm really happy.
"I just want to say to everybody to stay safe and keep themselves safe because it's really important.
"This sickness is incredible – you don't understand until you get it.
"I don't wish anyone to get it because it's not easy.
"Hopefully everybody will respect the rules and the structure and be as safe as they can."
Liverpool's last three trips across Stanley Park to Goodison have ended in goalless draws.
Indeed, it was Mane's injury-time finish in December 2016 that secured the Reds' last victory at the home of their local rivals.
"I can't remember the game!" Mane smiles.
"I know it was a tough game and at the end, I scored the winning goal.
" The three points at the time were really important for us. 
"Hopefully tomorrow I will score and the team will win, which will be massive for us. 
"We need these three points right now.
"It has always been a dream for me to play this kind of game. 
"Honestly, I think every single player would love to play this kind of big games in their career, for sure. 
"Today I'm lucky to be here to play this kind of game. 
"I'm excited about it and look forward to it."
The 237th Merseyside derby kicks off a period that will see Liverpool play seven games in a little over three weeks.