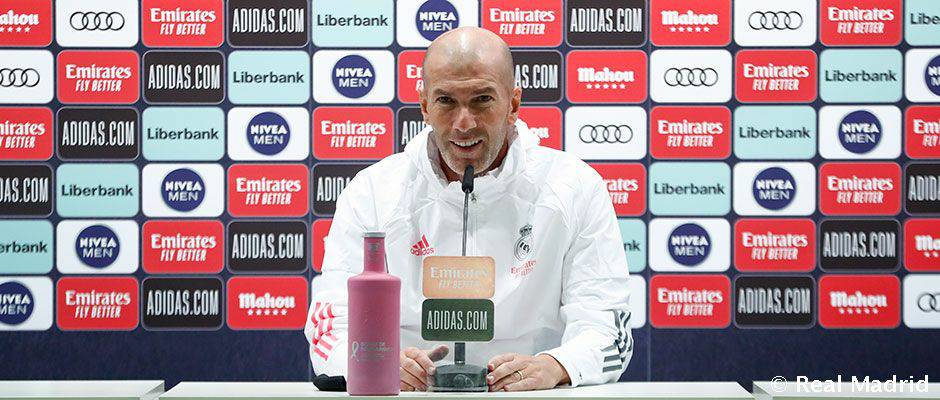 Real Madrid manager Zinedine Zidane says winning Saturday El Classico against Barcelona will be the best avenue to turn things around.
Madrid will travel to Catalans to face Barcelona in Camp Nou in what will be the first El Classico of the season that will be without supporters due to the COVID-19 pandemic.
Zidane spoke in his pre-match conference ahead of the game which will kick off by 4pm.
Africatopsports.com monitored the press conference which was late made available on the club website.
He said, "We know what we're going to encounter, an empty stadium, but it's the same for every team. 
"It's a different Clásico, but it's still a Clásico and it's always special. 
"It's important for us to start tomorrow's (Saturday) game well".
 
"A Clásico is a Clásico, with two good teams going head to head. 
"It'll be a good match despite the situation and the empty stadium. 
"It's the best way to turn the situation around because it's the match we've got tomorrow. 
"We want to turn things around and and that is what we are going to do by playing our game".
Reacting to their two consecutive defeat at home in La Liga and Champions League, Zidane admitted they got off to a poor start this season.
"We'll see after the game. 
"We got off to a bad start in the sense that when we conceded a goal, we found it hard to get our heads up again. 
"We found it difficult to play against a team that sits so deep and we didn't find a way through. 
"But this is football and there are ups and downs and you have to accept that. 
"We want to now focus on a different game tomorrow and forget about what happened the other day. 
"It happened to us recently, we've had some problems and in football the situation is a bit strange for every team, but we have the chance to put in a good performance to show our strengths". 
On how well his team is prepared for the El Clasico, he said:
"We've had 48 hours to prepare for the game. 
"The situation is what it is, the game as well. 
"We want to put in a good performance, to start well and to play well, to be strong.
"Confidence comes with what you do on the pitch. 
"If you play well you will gain confidence, and that's what we want to on Saturday ".