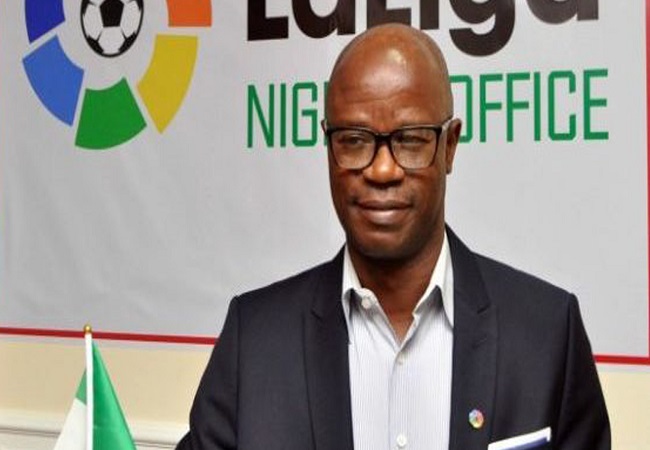 Mutiu Adepoju, former Nigerian international, expressed excitement over the return of former Black Stars' Captain, Asamoah Gyan to the Ghana Premier League (GPL). Ghanaian striker was previously under contract in India at Northeast United.
Gyan has signed for Legon Cities FC in the Ghanaian league following Asante Kotoko's failure to meet his demands. The South Africa 2010 World Cup star reportedly agreed a record local transfer fee of $1 million four-year deal.
Speaking on the development, Adepoju said Gyan's return to a local league he left 17 years ago shows he has confidence in the quality of the competition. He however added that such thing may not happen in Nigeria due to the politics and other difficulties the clubs of Nigerian Professional Football League (NPFL) face.
"I am just hearing that Gyan is back to the Ghanaian league. To think that the Ghanaian league is attractive to a player. He who left the same league so many years ago, with the amount of money involved in the contract, shows how huge the Ghanaian league is. This is a very good development.
"I am surprised that a club in the Ghanaian league can afford to pay that kind of money to a player. The truth is that is how clubs are being run as business ventures. At least, we are all living witnesses to what is happening in Europe and other parts of the world.
"I believe we're capable of replicating the same thing here in the country if we can put our acts together. We just have to do things the right way to make football viable and lucrative.
"The late Rashidi Yekini once played for the defunct Julius Berger of Lagos and Gateway Football Club of Abeokuta. When he returned home after playing professional football in Europe." He said.
On why Europe-based players don't come back to the NPFL, Adepoju said. "These are players who are used to huge salaries to the tone reportedly paid to Gyan. And in Nigeria players are not paid regularly.
"They are used to travelling by air to states where clubs have match fixtures. Which they may not get here. And then, there is issue of security in and around match venues and so many others." He continued.