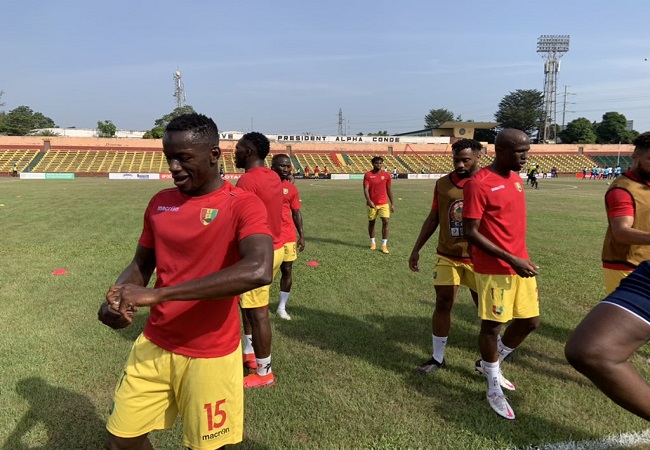 For their third outing in the 2021 AFCON playoffs, Guinea host Chad at the Conakry 28 September stadium. Thanks to Mady Camara, the Syli, without convincing, won (1-0) in a behind closed doors game.
From the start of this meeting, Syli set foot on the ball with a first opportunity obtained by Simon Falette. Kamso Mara had the opportunity to open the scoring for the Guineans. But the shot was not on target. After the bar hit by François Kamano, it was finally Mady Camara who managed to deliver Guinea just before the break in the 45th. 1-0 for the first half.
On the return, the Chadians tried to come from behind. But goalkeeper Aly Keita did not allow them. After the hour of play, Didier Six operated two substitutions. Camara and Kamso Mara out and Boniface Haba and Ibrahima Camara in.
Guinea could have scored a second goal in the final minutes of regular time. But Boniface missed out on the opposite goalkeeper with a wonderful assist from Naby Keita. On a last-minute free-kick, Aly Keita rescued the Guineans who were facing a Chadian team who played with no complex.
After three days, Guinea count 7 points. And they will go to N'djamena on 15 November with the aim of winning again. In order to validate their ticket for the next AFCON that will take place in Cameroon. Chad conceded their third defeat and saw all dreams of qualifying disappear.