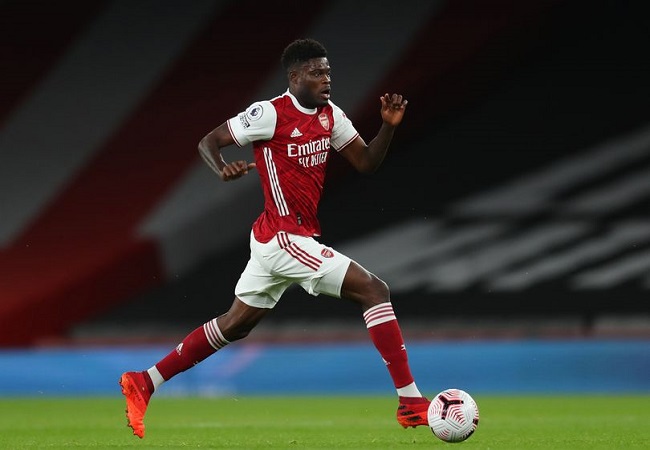 Arsenal lost to Aston Villa 3-0 on Sunday during a premier league game. And Thomas Partey did not return for the second half when the game was at 1-0. The 27-year-old got a thigh problem, a potential injury.
The Ghana Football Association (GFA) said to be waiting to hear from Arsenal over whether Thomas Partey will miss their upcoming international matches with injury.
The Gunners missed his presence in midfield and they fell to a heavy 3-0 defeat at the Emirates, thanks to a brace from Ollie Watkins and an own goal from Bukayo Saka. According to Goal, the Ghanaian, who signed for £45m from Atletico Madrid in the summer transfer window, will be staying at Arsenal during the international break due to his injury.
The Black Stars play Sudan on 12th and 17th November as they look to qualify for the 2021 AFCON. But according to GFA Communications director Henry Asante Twum, he claims they are still waiting to hear from Arsenal if Partey will be available for the international games or not.
"We're expecting information on Thomas Partey today from Arsenal. Whether he'll be available for the Black Stars or not in the doubleheader." He told Nhyira FM on Tuesday.
This was a rather different message than the one Arsenal boss Mikel Arteta uttered earlier this week.
"We don't know [the extent] of it [the injury]." Said Arteta.
"We have to scan him tomorrow or the day after and see what he felt straight away. Let's wait and see what the magnitude of the injury is. I don't know [if he will go away with Ghana now]. As I said, the doctor will have to have a look at him and probably scan him. Then we will decide what to do with him."
Arsenal will hope Partey is fit for the upcoming Leeds United game as he was particularly impressive in his side's 1-0 win at Manchester United. The first time they had won at Old Trafford in 14 years.
Despite playing in just four games in all competitions for the club, some have already likened him to Arsenal legend Patrick Vieira.