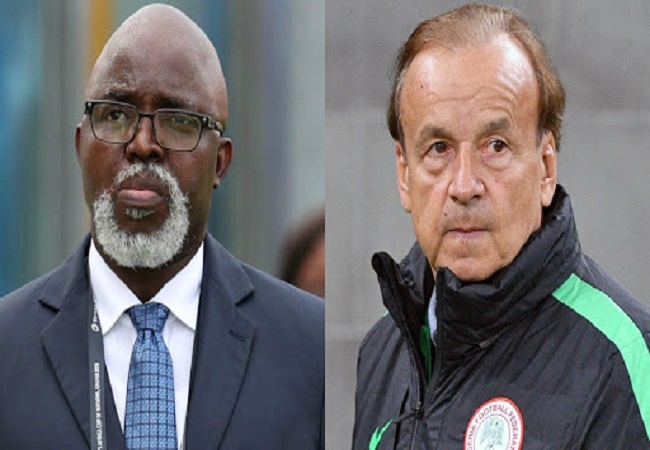 Nigeria drew 4-4 with Sierra Leone in a 2021 Africa Cup of Nations qualifier on Friday evening. For Nigerian Football Federation president Amaju Pinnick, it was disgraceful as the Super Eagles were leading 4-0.
The football administrator went to the dressing room to address the players and technical crew shortly after the game. And he admitted that he was shocked that they surrendered a four-goal lead.
Pinnick pointed out that Nigerians would blame him and manager Gernot Rohr for the draw. A draw that  he has labelled a defeat despite the players being the major actors.
"The truth is that we can't be leading 4-0 to Sierra Leone and conceded four goals for no reason." Pinnick said to Super Eagles TV.
"Since I became the President of the NFF, this is the worst loss I've seen in my life. The next few days I wonder how I'm going to sleep.
"It's not because of losing, it's not because we won't qualify for the Nations Cup. It's certainly because this is towards the end of the year. This is our last match at home. You know the passion, the love Nigerians have for this game.
"Definitely it's football. It can go either way. But what happened to us, where we complacent, where we so comfortable that we were leading 4-0. And all of a sudden the goals start coming in.
"At the end of the day nobody's going to call your name. Everybody, is the coach and Amaju Pinnick, that is the truth. But unfortunately he's not the one on the pitch. I'm not the one on the pitch."
Though he refused to reveal the identities of the players largely to blame for the draw, Pinnick swore that some players would be facing the axe if he were the coach of the national team.
Going by social media interactions, Nigeria fans have pointed their fingers at goalkeeper Maduka Okoye, Kevin Akpoguma, William Troost-Ekong and Paul Onuachu.
"I saw the reaction of your captain after they scored the fourth goal. And I shed tears for the first time in a long time. That spirit of competition is not there anymore to me and that's the truth. I'm not the coach. If I were the coach, there are some people I'd select. There are some people that won't come to the team again.
"Nigeria has 200 million people. We are eleven and should consider ourselves priviledged playing for the national team. It hurts me so much because we put in a lot – the flight, immigration, custom just to make sure that everything goes seamlessly." Pinnick added.
Nigeria's next two fixtures in the 2021 Africa Cup of Nations qualifiers are away matches against Sierra Leone and Benin.