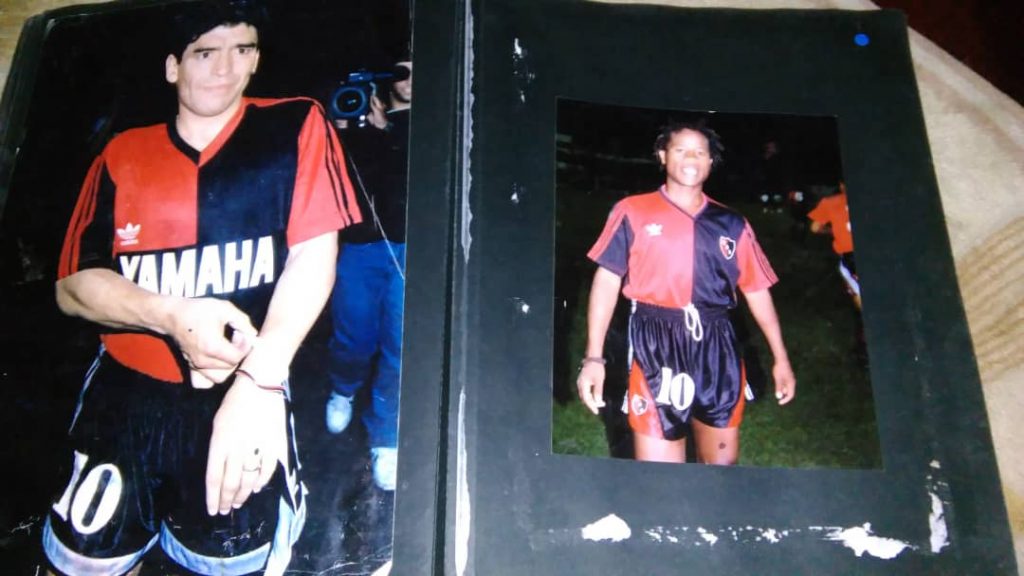 Former South Africa's Mamelodi Sundowns captain, Ernest Mtawali, has revealed how came up-close-and-personal with legendary, Diego Maradona, at his childhood club, Newell Old Boys, between 1993 and 1994.
"It's with sadness to hear of the passing of Diego 'Armando' Maradona; the best player I watched and known, condolences to the family may ur soul rest in peace," Mtawali tweeted after Maradona died from cardiac arrest at his private home, North of Argentina, on November 25 2020.
Many football stars have spoken about the greatness of the 1986 World Cup hero based on the games they watched of the Argentine, but Mtawali was close to Maradona they even shared the pitch and became friends in Argentina.
Mtawali had secured an unconventional transfer for an African player after, in 1995, signing for Newell Old Boys, the great club whose number one childhood hero is Maradona then Lionel Messi and the rest.
"I got a chace to play for Newell Old Boys in Argentina after he recommended me to the club in 1985. By the way, Diego played for Newell Old Boys in 1983. It was also an honour for me to play with him in an in-door soocer tournament in Buenos Aires, Argentina.
"I will forever treasure those moments. He also made it possible for me to play in France for Toulose. He was one of the kind."
Mtawali, who was born in 1966 to a South African mother and Malawian father, recalled how meeting Maradana changed his football career.
"Very sad day indeed," he said.
"I have lost my idol. The first time I watched Diego it was when he captained Argentina to the World Cup victory in 1986 in Mexico. He also won the Player of Tournament [award].
"I was fortunate to have watched him closer when I moved to Bassano Virtus in Italy in 1986. He was playing for Napoli, then Seria A was, by far, the best league in the world. In those days, all the best players were playing in Italy and from what I saw, Diego Maradona was a genius; the best player."
For starter is the first foreigner to win South Africa Player of the Year Award in 1995 while playing for Bloemfontein Celtic.
He had had returned to his motherland in 1983 when he signed for Welkom Real Hearts FC, before Celtic came calling the following year.
Mtawali, an elegant passer of the ball, went on to star for Sundowns, SuperSport United, Jomo Cosmos, Hellenic, Orlando Pirates and Ajax Cape Town between 1983 and 2005.
He was also capped 62 times for Malawi and got to play for Al Wahd in United Arab Emirates.
Mtawali was born in 1996 in Blantyre, Malawi to a South African mother and Malawian father. He was until 2016 coach for Malawi national team.