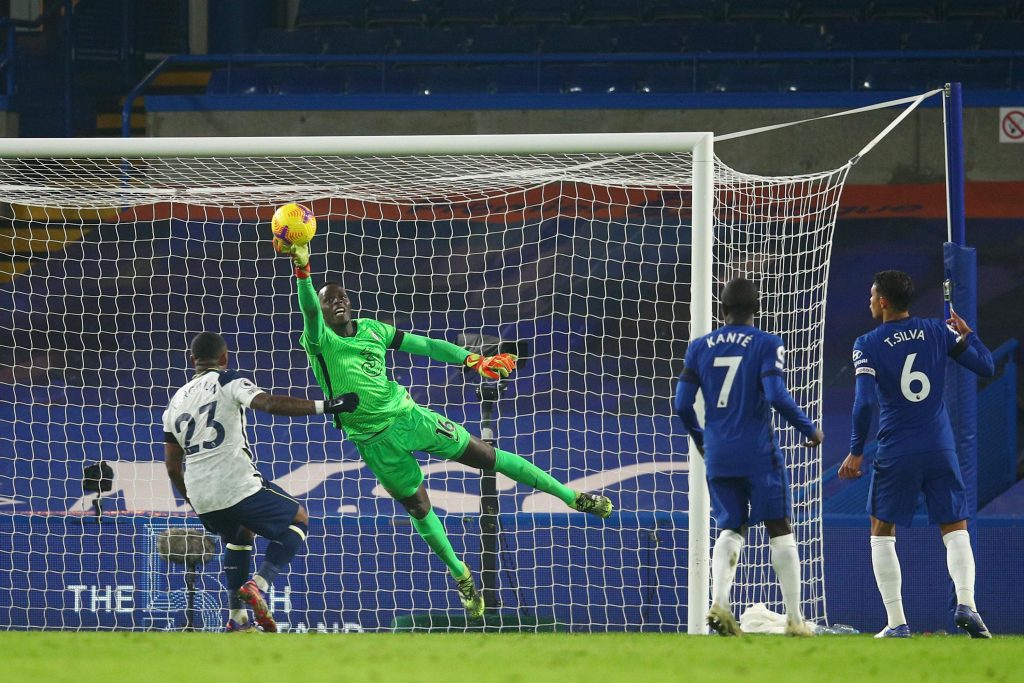 It was a good day at the office for Chelsea goalkeeper Édouard Mendy who kept another clean sheet in Sunday London derby 0-0 draw against Tottenham at Stamford Bridge.
Mendy once again was superb in goal for the Blues who have now gone eleven games unbeaten in all competitions.
 The Senegalese goalkeeper also kept his fifth clean sheet in the Premier League to become the only goalkeeper with the most clean sheet so far this season.
Mendy's presence gave Chelsea a rock solid defence as the Blues limited Spurs to just one shot- on target.
Speaking after the game, Chelsea manager Frank Lampard expressed satisfaction over his team performance to keep a clean sheet.
He told chelseafc.com that his players did everything to win the game but were not fortunate enough to get the goal.
"We dominated big parts," he said. 
"We played a really good game. Everything we talked about before the game in terms of nullifying their counter-attacking threat we did really well. 
"That part of the game was fantastic. They didn't have a chance until we almost gifted them one at the end. 
"We created enough. It's difficult to play against Tottenham when they defend in a low, central block. 
"You have to try and go round them, and it's not easy whilst making sure you don't allow counter-attacking transition. 
"We were great at that. 
"We did enough to win the game without getting that last little bit that would win it for us. 
"Sometimes you rely on a bit of magic or something to drop for you when you have that much dominance, and it didn't quite come. 
"There was only one team searching for that for the majority, and that was us. 
"So I have a balanced feeling after the game. Big parts were great, hence the clean sheet, but it was a game we could and probably should have won."
With more than a quarter of the league campaign now complete, Lampard also assessed the current state of his team, who sit third in the Premier League and top of our Champions League group. 
"I'm pretty happy with where we are at. Bringing signings in doesn't mean it works instantly. 
"We have to work, we have to gel, and we are doing that. Every day and every performance relationships are building. 
'We always want more and that is hopefully to come."
Chelsea next game will be a trip to Sevilla on Wednesday for their Champions League game.