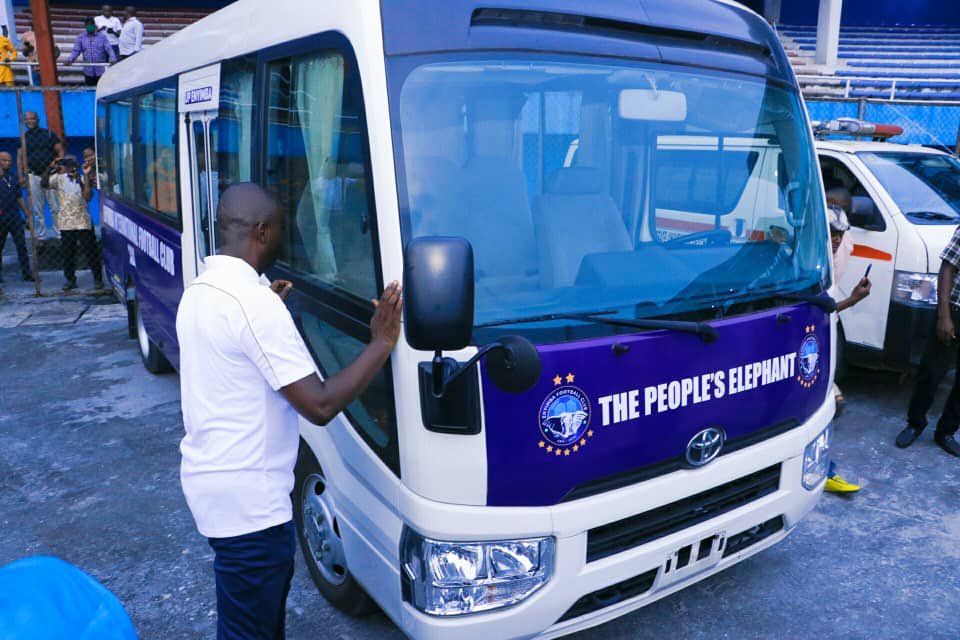 Nigeria Professional Football League (NPFL) side,
Enyimba
has been rewarded for their qualification to the next round of the CAF Champions League with a new team bus.
Enyimba on Sunday reached the next round of the CAF Champions League with a 2-1 aggregate agaibst Rahimo FC in Aba.
The people's Elephant were then presented with a new Coaster bus by the Abia State Governor Okezie Ikpeazu as part of commitment to the team qualification.
Governor Ikpeazu was at the Enyimba International Stadium to cheer the team during the game.
The Governor apart from donating a new Coaster bus to the club, also donated an SUV to the club chairman, Anyansi Agwu.
This was confirmed in a tweet he posted on his official Twitter account.
The tweet reads as follows;
"As further demonstration of my commitment to the progress of the Club, I donated a Coaster bus & an SUV to @EnyimbaFC after their match this evening against Rahimo FC. 
"The bus will help ease their local travels while the SUV will be used by the Club's Chairman, Anyansi Agwu."
He also expressed delight in the new look of the Stadium which for the first time an electronic scoreboard was used.
According to him, the electronic scoreboard was installed by his administration.
"For the 1st time in her illustrious history, @EnyimbaFC today played with an electronic scoreboard recently installed by my administration at the stadium in Aba. 
"I'm proud of other new facilities we installed. Enyimba has scaled through via 2-1 aggregate win over Rahimo FC.
Enyimba will face Sudanese giant Al Merrikh in the next round of the CAF Champions League.
The winner of the game will proceed to the playoff while the loser will drop to the CAF Confederation Cup.