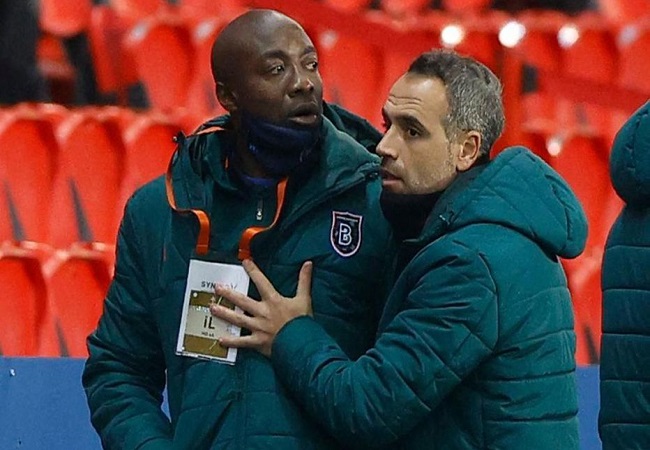 PSG and Başakşehir were playing their UEFA Champions League 6th day game on Tuesday evening, 8th November 2020. While Cameroonian Achille Webo, assistant coach of the Turkish club Başakşehir, accused Romanian referee, Sebastian Coltescu to have been treated him 'Negro'.

In fact, PSG hosted the Turkish club Başakşehir in Group H for decisive game for the continuation of the competition. In the 16th minute of the game, a fact will undermine the atmosphere of this pleasant match. After having collected a red card following a protest against the decision of the main referee, the Cameroonian Achille Webo, received a red card. And therefore he had to join the stands. But in the process, he immediately rushed to the fourth referee with this question: "Why did you say 'Negro'?" Incident that will generate several minutes of negotiations. And this led the Turkish and Parisian players to leave the pitch for the locker room.

Demba Ba, Presnel Kipembé, Kylian Mbappe, all in solidarity
Relegated to the bench, the Senegalese Demba Ba vigorously defended his assistant coach by flying int rage and asking the fourth referee. "Why do you say 'this black guy' to talk about a black player while you say 'this guy' to talk about a white player"?

As for Kylian Mbappe, he said "We cannot play with this 4th referee".

Presnel Kimpembe, in an angry mood, said. "What? Is he serious? Let's go. We should go, that is all. Let's go". And he also tweeted and wrote 'NO TO RACISM'. The match has been postponed.
A decision that reminds about the commitment of athletes in the United States against racial injustice that took a new dimension this summer with the "Black Lives Matter" movement.

For Pierre Achille Webo victim of this racial injustice, "I'm not white. I'm not black. I'm human." he said.
In a social media release, UEFA decided to replay the game the following day, 9th December 2020. And they indicated that investigations will be carried out to shed light on this incident.