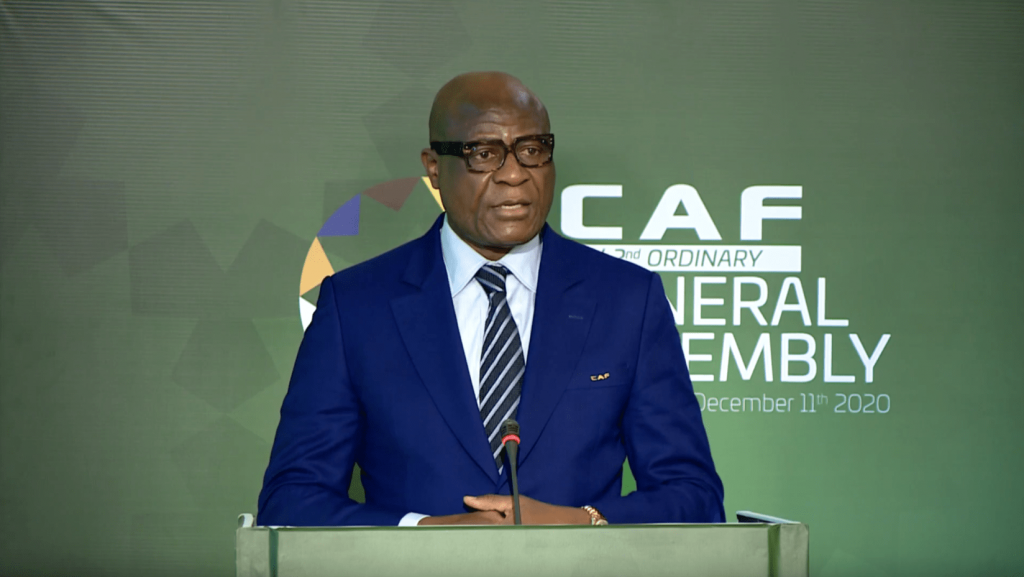 CAF interim President Constant Omari urged Member Associations to be proud of the Africa football governing body.
Omari states this during the 42nd ordinary session of CAF held in Cairo, Egypt.
Read Omari's full speech.
Mr FIFA President and dear Gianni,
Ladies and Gentlemen Members of the Executive Committee, 
Ladies and Gentlemen, Presidents of National Associations,
Ladies and Gentlemen, representatives of international institutions,
It is a great honor for me today to preside over this General Assembly.
The specific context is twofold:  We have been plunged into an unprecedented global health crisis which forces us to change our lifestyles, our operating methods and all our programs. It is an exceptional chapter in our history that moves us and affects all our activities.
And then there is the impediment placed on the path of our brother and friend, elected President Ahmad, who has now started a fight for his dignity and to assert his rights.
This dual context is completely new.
Our Confederation, in its 64 years of existence, has never been faced with such a situation. 
Never has it been subjected to so many constraints, and especially never has it known such a need for vigilance and responsibility.
I would like to speak frankly to you and ask you today to share with me and with the members of the Executive Committee this general responsibility, both to protect the major interests of our Confederation, and to involve you even more in the daily management of our actions and programs.
You know, we are not at war with anyone, we do not hold it against anyone and like all our sister confederations around the world, we are open to criticism because no one is perfect.
But we are also aware that we have come a long way, lined with obstacles and problems.
 That we have built, brick after brick, an Institution which today finds its place among the largest on the planet.
All the men and women who have preceded us for more than half a century were keen to build an African football empire, to organize, to structure, and of course to manage it.
At the end of the 1950s, they had no money, structure, or resources, but they had the courage and the fierce will to grow CAF, and give it its first regulations, competitions, and first leaders.
It was a daily struggle as our continent awakened to the era of national independence and enjoyed its first fundamental freedoms.
African football, by the scale of its popularity, already participates in the social, cultural, and structural life of the whole continent. CAF continued eliminating obstacles by continuously erecting new rules, new structures, and new competitions.
Even in the distant days of the first World Cup in Uruguay in 1930, the African continent was invited, but the plane did not yet exist, and the boat trip took three months. 
Four years later in Italy, Egypt started the historic cycle of African participations in the FIFA World Cup.
I remind you of these glorious memories to highlight the prestige of this African football and its long adventure through the decades. 
Today it is one of the most spectacular, shimmering and arguably one of the most promising without insulting football development in other continents.
In such a journey, CAF has always played a frontal role, adapting to modernity, growing up, expanding its calendar, seeing dazzling young talents invade clubs around the world, and living the exploits of our national teams during major international competitions.
Ladies and gentlemen, dear friends,
This Confederation therefore has a history laced with major facts which warm our hearts, and which make us proud to belong to it.
Being faced with so many difficulties today should therefore not scare us or make us doubt. 
Our capabilities are great. Our will must be stronger than ever. 
And, of course, let us be proud of our achievements, track record, plans and our strategy for the future.
Our Confederation and its Central Administration are young today, very young and this is a clear and obvious sign.
No one can deny that since March 2017, under the leadership of Mr. Ahmad, so much has changed for the better; the functioning of our internal bodies and structure, the overhaul of our zonal management systems, the strengthening of our statutes, the substantial increase in the subsidies allocated to National associations, the creation of a structure of ethics and good governance, the cleaning up of our accounts, a recruitment policy at CAF by diversifying nationalities of staff, the change of frequency of major competitions such as the Africa Cup of Nations and its expansion to 24 teams, and many other achievements that would be tedious to list here.
That's the life of our Confederation. It has been subjected to unfair criticism many times, but we can understand because despite the efforts and the increased vigilance who can say that one can be exemplary or perfect?
We accept criticism as we tolerate confrontational debate.
We remain subject to the inescapable law of permanent evaluation because our actions and activities are carried out in broad daylight and everyone can appreciate or hate.
But if we are thus organized, thus open to any opinion, we must also properly defend the good results, the undeniable performances and why not also the exploits of those who play on the field and perfectly embody the new value of African football.
We can also clearly state our claims. 
We want to progress and refine the management methods of our calendars, and the management of our competitions in all categories.
We have the firm desire to support ever more strongly the promotion and development of women's football, youth football, and the accomplishment of zonal tournaments.
At the same time, we are determined to protect our Television and Marketing rights and revenues generated by the retransmissions of CAF events. As such, we wish to study the possibility of an even stronger and more professional partnership.
Our TV Rights partners will be chosen according to new criteria: international references, credibility and proven international experience.
I would also like to tell you that at the instance of the General Secretary, we have undertaken a vast operation to recover and regroup our archives wherever they are found to document our work and images through the ages and time.
On a completely different level and because its topicality is so hot, I must, on your behalf, salute the remarkable work of our medical committee, headed by our brother Adoum Djibrine and led by emeritus professors and medical doctors.
We owe them the sanitary measures and rules established on the conduct of our competitions and their respect by the national associations.
 It is the demonstration that we Africans have the capacity to face the most serious and delicate situations in a context of acute world crisis.
Ladies and gentlemen, dear friends,
It is not easy to approach, in the form of a balance sheet, on all the sectors of CAF activity. 
We will undoubtedly do so during the debates, but we cannot ignore the aspect of the next elections within our Confederation: election of the CAF Executive Committee, election of the next CAF President and election of African members to the FIFA Council.
We are used to these elections, they always generate, and it is normal, tensions, headlines and even rivalries.
There is nothing we can do about it; it is characteristic of important elections. 
But this time I must recommend peacefulness, conciliation and good climate of conduct of these voting operations because the world will look us deep in the eyes, judge and evaluate us. 
Our own African opinion will be uncompromising on transparency, good organization and of course acceptance of the end results.
We will ensure that optimal conditions are met for the smooth running of these elections.
Beforehand, we will experience the return to the major CAF competitions in Yaoundé, Douala and Limbé with the organization of CHAN from January 16.
 This huge international incubator of young talents from Africa, CHAN will discover the great new stadiums which Cameroon has built.
In the end, I must agree that this General Assembly, the first since that held on 18 July 2019 in Cairo, will be historic in many ways.
As I told you, at the beginning of this speech, this GA will be marked for life by its special context and the course of totally unforeseeable events.
But optimism will be the order of the day, I assure you.
Long live African football
Long live peace among the people of Africa
Long live the African Football Confederation