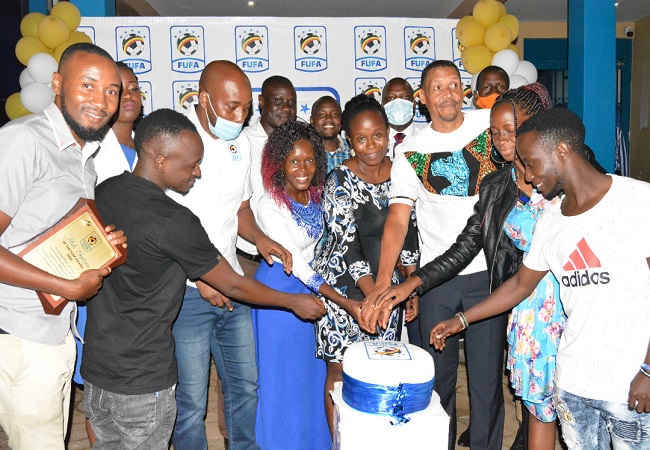 The new normal due to Covid-19 pandemic affected the entire buzz usually attached to the FUFA end of Year parties. However, this did not stop the Human Resource, Marketing and Events Management team to throw something back to the staff. This with the simplicity it deserved under the prevailing environment.
It was an event that did not even give a glimmer of hope to talk about Goals, objectives, KPIs and measures for this year and later on for 2021.
Indeed 2020 caused so many amendments just like referees expect tem each year with the 17 Laws of the Game.
With FUFA staff, everything looked new right from the MCs of the day- rookies Ivan Kintu Bayige and Sarah Birungi who got blessings with a special prayer from the usual MC Ahmed Hussein at FUFA events.
'The Almighty God, I put before you two young souls who are trying out this job for the first time. But I pray that Ivan does not take a lot of soft drinks to disrupt our event. Sarah, I trust you will guide Ivan. God bless you.' Said Hussein his brief prayer dedicated to the new MCs.
The prayer sent staff into loud laughter for reasons best known to them. Certainly Hussein knows!!!
It was an event full of humour and fun. The Staff was asked to say something special and unique that others did not know about them.
Strangely, some used different languages for introduction. It was a perfect way to enroll for lessons especially in Swahili with the tutorial sessions by FUFA Deputy CEO- Governance Sam Bakiika. FUFA Deputy CEO-Services tried his luck with French. While the 'newly formed SMAU' was heavily represented by Jarvis Ahumuza and Ismail Asiimwe (Kigezi). The new normal is indeed creating opportunities for the young blood.
The norm at FUFA is to recognize outstanding staff at the end of each year. However, it also came with new categories for the year 2020 (Twenie-Twenie).
Ismail Sebunya was recognized as the most committed staff to his job. He is part of the FUFA Support staff.
Referees Manager Egesa Samuel Wesonga and Marketing Director Esther Musoke were the best at time Management.
The best dressed Male on the night was FUFA Deputy CEO-Decolas Kiiza. While two other staff Leticia Namutebi and Faridah Nasejje tied for the award of best dressed in the female category.
The best Female employee was Finance Director Julian Namuganga. While the best Male employee accolade was given to the Communications Department and not an individual. They were recognized for their exemplary work during the lockdown period under difficult conditions. The top two awards come with a financial package of the 13th Month salary.