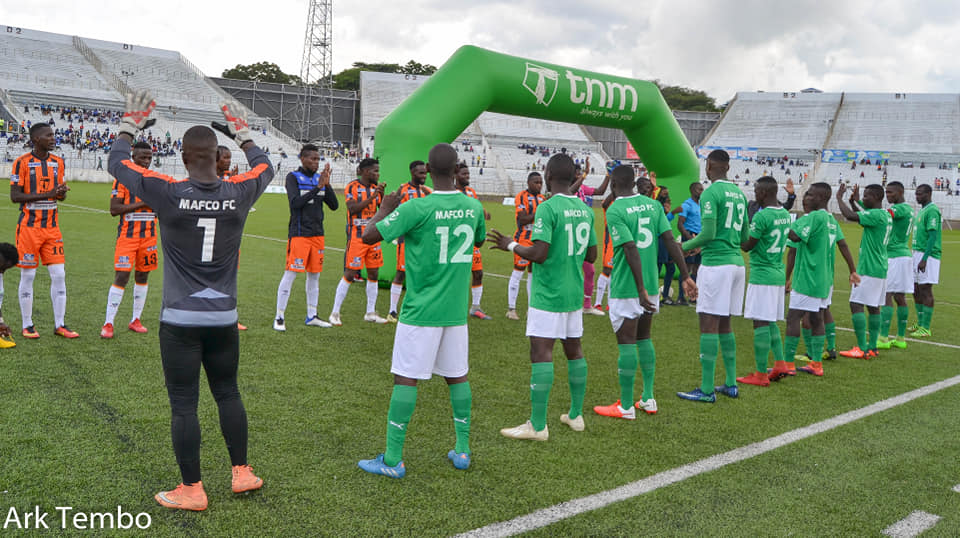 Unfancied Mafco FC went top of the log table after upsetting Be Forward Wanderers 1-0, Nyasa Big Bullets finally won at home while Silver Strikers received a reality check over the weekend.
Striker Walusungu Mpata scored for Mafco at Kamuzu Stadium in Blantyre leaving Wanderers winless at home, while the soldiers topped the table with 13 points from seven games.
Wanderers, who are on the 10th place with six points from five games, failed to make numerical advantage court following the dismissal of Stain Malata for the visitors.
Slightly down the table, deposed leaders Red Lions are down to second place with 11 points from six games, one point ahead of Silver, after the men from Zomba lost 1-0 to Karonga United on Saturday when Steven Saka struck.
Earlier on Saturday, Mafco defeated in-form Ntopwa FC 2-0 through Peter Katsonga's double at Mpira Stadium.
Still in Blantyre, champions Nyasa Big Bullets won for the first time at home, 5-1 over Moyale Barracks 5-1 through Mike Kaziputa, Aziz Mwakifuna, Chimwemwe Idana, Zicco Mkanda and Nickson Nyasulu strikes on Saturday.
Bullets lie sixth with eight points from five games that have produced two wins, two draws and a loss.
Brown Magaga scored the consolation for Moyale who eventually moved off the bottom of the table with two points from five games after a 1-1 draw against hosts Mighty Tigers at Mpira Stadium on Sunday.
Striker Edwin Carlos put the 14th placed Tigers, who have four points from six games, ahead in the 15th minute before captain Llyod Njaliwa levelled matters for Moyale on the half-hour mark.
In the Northern Region, Silver trounced Mzuzu Warriors 4-0 with Maxwell Gastin grabbing a hat-trick and defender Hadji Wali putting the icing on the cake at Mzuzu Stadium on Saturday.
The following day, the coach Dan Kabwe -led Silver lost 1-0 to Ekwendeni Hammers at Mzuzu Stadium—their second of the season—to end a three-game winning streak.
In the Central Region, TN Stars' revival continued after they beat Blue Eagles 2-1 courtesy of Chiletso Zoya and China Chirwa goals whereas Maxwell Salambula struck for the police officers.
Full results
Saturday 26th December 2020
Nyasa Big Bullets 5 (Aziz Mwakifuna, Chimwemwe Idana, Nickson Nyasulu, Mike Mkwate, Zicco Mkanda) Moyale Barracks 1 (Brown Magaga)
Ntopwa 0 Mafco 2 (Peter Katsonga 2)
Karonga United 1 (Steven Saka) Red Lions 0
Mzuzu Warriors 0 Silver Strikers 4 (Maxwell Gasten 3, Hadji Wali)
Civil Sporting Club 0 Kamuzu Barracks 0
Sunday 27th December 2020
Mighty Tigers 1 (Edwin Carlos) Moyale Barracks 1 (Llyod Njaliwa)
Wanderers 0 Mafco 1 (Walusungu Mpata)
TN Stars 2 (China Chirwa, Chiletso Zoya) Blue Eagles 1 (Maxwell Salambula)