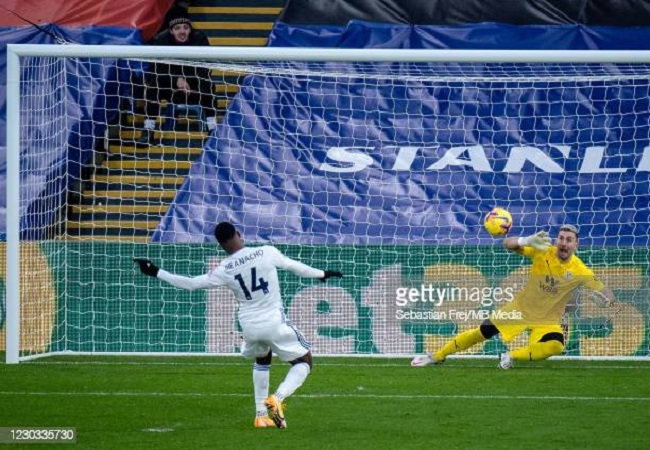 The Premier League game between Leicester City and Crystal Palace on 28th December resulted in 1-1 draw. But Leicester City were given the chance to go 1-0 up before half time in their. However, Crystal Palace goalkeeper Vicente Guaita unfortunately saved Kelechi Iheanacho's unconvincing penalty.
The Nigeria international was handed the responsibility of taking the spot kick. Because the regular taker Jamie Vardy was on the bench.
Iheanacho had previously scored one penalty since his arrival in England. And that was against Aston Villa on January 30, 2016. But he missed from the spot in the Super Eagles friendly vs Tunisia two months ago.
Former England goalkeeper Rob Green, who was on the books of Chelsea before hanging up his boots, has revealed that he sensed that Iheanacho was going to miss from the spot. Because of his stuttering run-up when he took the kick.
Speaking during half time, Greene said on Premier League Productions : "We could sense it from here. It's a great save.
"He waits, Iheanacho does that stutter, he waits for him to go. But what he doesn't do in the penalty is that he doesn't actually get enough power into the strike.
"When you stutter, to get that power 99 percent of the time a player is going to have to hit it to the opposite side. Let's say for Iheanacho from his left leg to his right to Guaita's left.
"Guaita knows that as a goalkeeper, if the penalty taker stutters the majority of the time they are going to go that way. And then stops looking which is an incredible thing to do really".
Iheanacho started a Premier League game for only the second time this season against Crystal Palace.