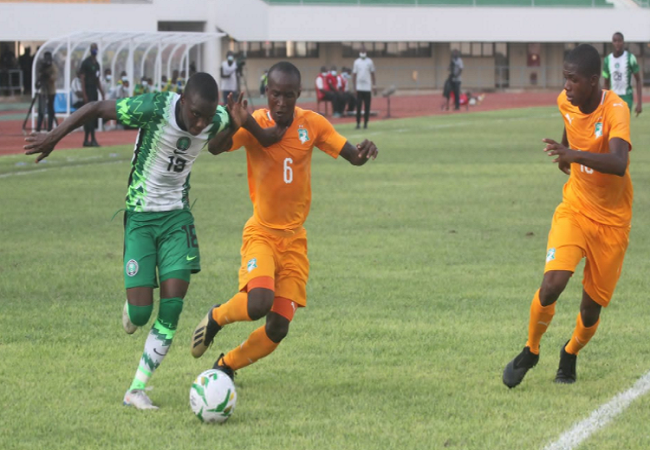 Nigeria U-17 team started the ongoing West African Football Union (WAFU) B Tournament with a disappointing start. The Golden Eaglets lost 0-1 to their Ivorian counterparts on Wednesday at Kégué stadium in Lomé.
The solitary goal conceded in the 76th minute condemned Coach Fatai Amoo's tutored side to the defeat. This loss effectively puts them in a daisy situation.
With Group B having only three teams and each team to play only two matches, it is a more difficult prospect. And any team that loses its first game will be walking a tight rope.
The Golden Eaglets, through their media officer, had earlier complained there was a "massive conspiracy" against them in Lome.
The Eaglets arrived in Lome, Togo earlier than their first opponents the Baby Elephants of Ivory Coast. But their mandatory MRI tests were scheduled for a later time.
Their Ivory Coast counterpart had their tests immediately. But the Nigerian boys were scheduled for later.
These, officials' claim, was geared at unsettling the Nigerian team.
Having failed in their first assignment in Lome, the Golden Eaglets are condemned to win their other Group game against arch-rivals Ghana on Saturday.
Both Nigeria and Ghana have seven cadet world titles between them. And clashes between them at any level usually have an extra edge.
In group A, The young Sparrow hawks defeated the Mena of Niger 2-1 in the opening game. Whereas, Burkina Faso knocked out Benin 5-1 in the second game.
The tournament second day games will start this Friday with the host Togo going against Benin. The game is scheduled to kick off at 16:00 GMT. Niger – Burkina Faso will follow at 19:00 GMT, all to take place at Kégué stadium, Lomé.