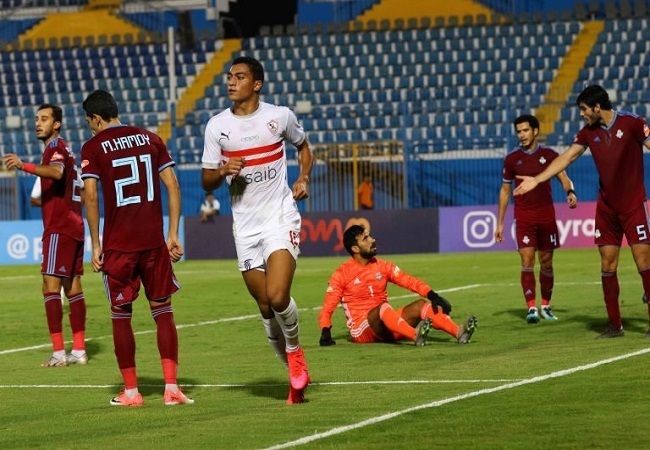 Mostafa Mohamed has been in link with a move abroad. And the striker has been the main talk of Egyptian media for the past weeks.
According to Zamalek TV, Spanish second division side Almeria have sent an offer to sign the club's striker Mostafa Mohamed.
Ligue 1 outfit Saint-Etienne are seemingly the closest team to sign him. As they have sent several official offers to sign the 23-year-old.
Now former Zamalek player turned pundit, Khaled El-Ghandour, dropped a surprise by confirming that Turki Al-Sheikh-owned UD Almeria have sent an offer to sign Mohamed.
"Mostafa Mohamed received an offer from the Almeria, as I was told Zamalek officials. It's a very attractive in terms of financial return." El-Ghandour said on Zamalek TV.
"The club will receive €1.5m for a 5-month loan, with an option to buy for 5 million euros.
"Zamalek is open to discussing this offer if it's only on loan. And if the player wishes to play in the Spanish Second Division. But the club rejects the idea of ​​loaning with the intention of selling.
"I spoke with Mostafa Mohamed after yesterday's episode. And he told me that I may have made a mistake with his statements yesterday.
"He told me that he wishes to move abroad and wants Zamalek fans to understand where he's coming from.
"I tried to convince him to stay until the Olympics and he began to somewhat understand. The first option for him is to move abroad. And this is no disrespect for the Zamalek fans. He will accept any punishment that will be imposed on him.
"Mostafa Muhammad told me that he's present and training and awaits to see if Pacheco wants to include him in the next match or not.
"He told me that he's not forcing Zamalek. And he received a second offer from France's Saint Etienne for €4.5m with €1m in bonuses [for goals and appearances].
"The club would also receive 15% in case of resale. But Zamalek refused the offer.
"Saint-Etienne sent tomorrow an offer of €5m and 15% in the event of resale, Zamalek will agree to sell Mostafa Mohamed."
"All offers from Gulf and Arab countries that were sent Zamalek players were completely rejected." He concluded.