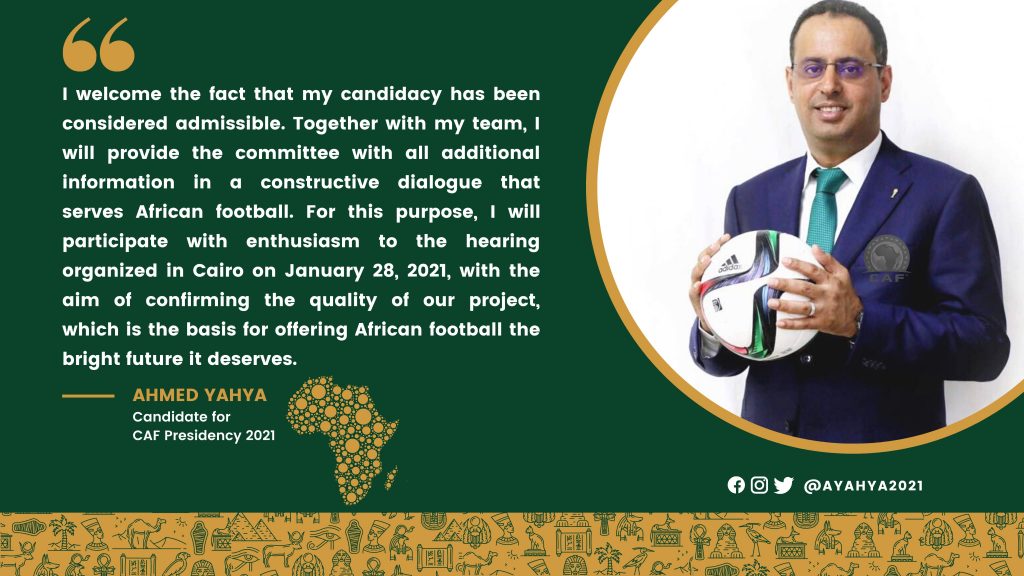 Ahmed Yahya from Mauritania has welcomed CAF Governance Committee's decision to accept his candidacy for the continental body's forthcoming presidential elections.
"I welcome the fact that my candidacy has been considered admissible. Together with my team, I will provide the committee with all additional information in a constructive dialogue that serves African football. For this purpose, I will participate with enthusiasm to the hearing organized in Cairo on January 28 2021 with the aim of confirming the quality of our project, which is the basis for offering African football the bright future it deserves," Yahya tweeted.
His tweet came hours after CAF's Governance Committee carried out the eligibility checks for Executive Committee and presidential candidates.
CAF announced that while the candidacy of Yahya and Patrice Motsepe from South Africa were found admissible, they were subject to additional checks.
"Their candidatures were deemed admissible. However, the committee considered that further checks are necessary before a final decision. To this end, a hearing of these candidates will be organized in Cairo on 28 January 2021," reads CAF website.
Candidates authorized to appear on the list of candidates for the Presidency:
Mr. Augustin Emmanuel Senghor (Senegal), Lawyer, 55 years old, President of the Senegalese Football Federation since August 2009 and member of the CAF executive committee since February 2018.
Mr. Jacques Bernard Daniel Anouma (Côte d'ivoire), 69 years old, Financial Executive: Former member of the FIFA executive committee, former President of the Ivorian Football Federation and Honorary President of the Ivorian Football Federation.
Candidate declared ineligible: Mr. Ahmad Ahmad (Madagascar), Out-going President
CAF will elect for a four-year term the successor of Mr. Ahmad Ahmad at the 43rd Elective Ordinary General Assembly, scheduled for 12 March 2021 in Rabat, Morocco.
In addition, for candidates for the FIFA Council, the eligibility check is underway at the level of FIFA bodies and the result will be communicated in due course.