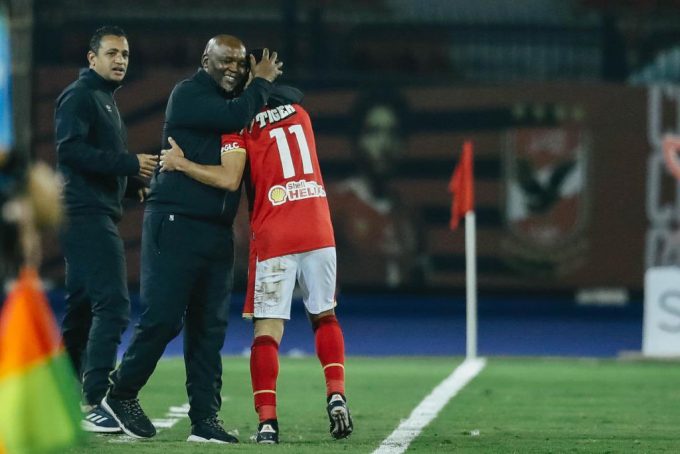 Al Ahly head coach Pitso Mosimane said he would love to have coached veteran winger Walid Soliman following his stunning brace against El Entag.
Soliman, 36, was just a second-half substitute against El Entag on Tuesday evening while Red Devils were leading the scoring sheet by 2-1.
He came on the pitch at the 71st minute and scored his first goal six minutes later before adding another one at the 86th minute.
And this as really impacted Pitso who have just given him 192 minutes of play this season. He however scored four goals and provided one assist despite his skinny playing time.
Read more: Al-Merriekh head coach impressed by Al Ahly's Pitso Mosimane abilities
"Why is no one asking me about Walid Soliman? I want to talk about him," Pitso said after the Entag game.
"Walid Soliman is a classical player, who scores unbelievable goals. He is amazing.
"I speak with him constantly. It's difficult for him to play the full 90 minutes, but when he participates even for a few minutes, he scores brilliantly.
"He doesn't get upset and never complains when he is benched.
"I respect Walid Soliman so much and I appreciate him. He is an example for the young players on how to score goals. He scores in an unbelievable ways. Magical player.
"It's unfortunate that I have discovered him very late. I wish I came to Egypt a few years ago so that I can coach Walid Soliman when he was younger," added Pitso.