The wait is finally over as the Total 2020 CHAN tournament gets under way today, Saturday 16th January 2021.
The tournament which was scheduled to hold in 2020, was marred due to the outbreak of the COVID-19 that crippled sporting activities.
This year's competition will be hosted by Cameroon and four stadiums in three separate cities will spark to live from January 16- February 7 2021.
Three cities including the war zone Limbe will host the tournament in four different Stadium.
Three of the stadiums – with the exception of the Stade de la Reunification – have been pencilled in as venues for next year's Africa Cup of Nations.
Africatopsports.com takes a look at the four stadium and the  Groups that will be playing there.
STADE AHMADOU AHIDJO (GROUP A)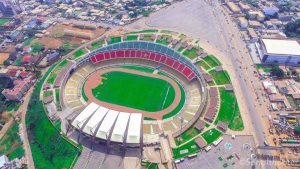 The Ahmadou Ahidjo Stadium was renovated in 2016, 44 years after it was constructed.
It has a capacity of 40,000 and it is the home ground of the Cameroonian National team.
Apart from being mostly used for football, it is a multi purpose stadium that can be used for track and field events.
It is the home stadium of Canon Yaounde and Tonnerre Yaounde in the Cameroonian league.
The stadium drew a record of 120,000 spectators in 1980 in a football match.
 It will be the venue for the opening game between hosts, Cameroon and Zimbabwe and also venue for all Group A games.
Host Cameroon, Burkina-Faso, Mali and Zimbabwe are in Group A.
JAPOMA STADIUM (GROUP B)
All Group B teams will have a feel of the new 50,000 seaters Stade omnisport de Douala stadium.
The stadium is located in the Japoma locality in Douala and was completed this year.
It have basketball courts, handball volleyball and tennis courts, an olympic swimming pool of 8 lanes, conference centres, commercial centers, a four star luxury hotel and a parking lot. 
Libya, DR. Congo, Congo and Niger Republic will face off in this stadium.
STADE DE LA REUNIFICATION (GROUP C)
It is the second stadium in Douala that will host the Total CHAN 2021 competition.
It has a capacity of 30,000 people was was renovated in 2016.
The iconic stadium served as home ground for Union Douala and was first built in 1972.
This is where defending champions Morocco, Rwanda, Uganda and Togo will play.
Limbe Omnisport Stadium (GROUP D)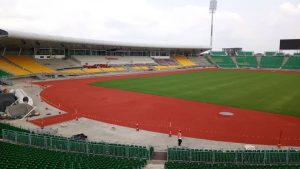 Considered a volatile and war zone, but Group D are expected it still play in the area.
The stadium has a 20,000 capacity and was built in 2012.
It was inaugurated on January 2016 and remains one of the few stadiums in the world built on a hill and has a stunning view of the sea.
The Ambazonian Governing council had written to CAF that the place is not secured.
On Thursday, there was an explosion that rocked close to the Stadium.