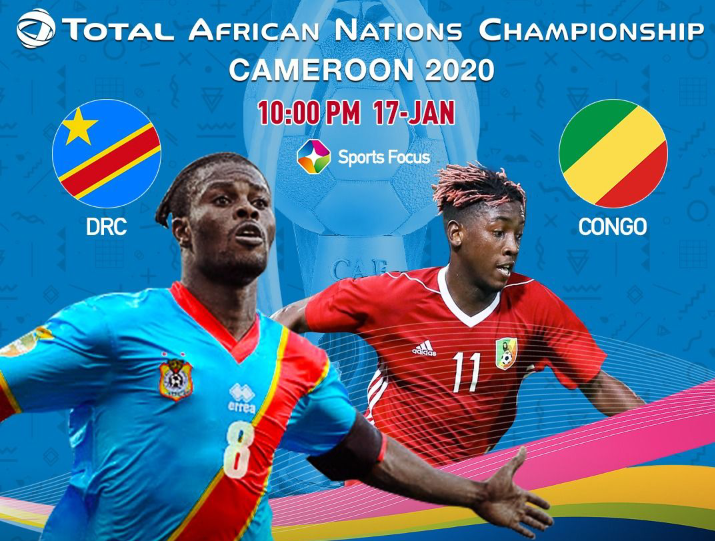 The stage is now set for Sunday's Total CHAN 2020 opening Group B between neighbours DR Congo and Congo Brazzaville.
Both teams will face off at the majestic 'Stade de Japoma' as Congo Brazzaville will  be making their third appearance in the competition.
On the other hand, DR Congo head to the tournament as favourite having won the title twice.
The Leopards of DR Congo won the maiden CHAN edition in 2009 and added another title in 2016 to become the only team to do so in the history of the tournament designed exclusively for home-based players.
It is the fifth time they will be participating in the competition.
Speaking ahead of the game, both teams head coach are optimistic of a good outcome at the end of tie .
In his part, head coach of the Leopards of DR Congo Jean-Florent Ibenge told journalists that his team will not be dwelling on pas glories.
"Those titles are from the past. 
"Here we are in the present, and everyone must try to write their story.
" It's up to those players to write theirs," Ibenge said.
"We have a strong opponent from the start. It's up to us to prepare ourselves to make the best copy possible and that this time at the end of the 90 minutes, we are victorious," he added.
The Leopards won their last friendly match against Congo, but their last official match – in the CHAN 2018 qualifiers – turned in favor of the Red Devils. 
It was Congo then who put an end to hopes of a 5th successive appearance for their neighbors in CHAN finals. 
This situation pushes TP Mazembe forward Joel Beya to be careful before the Congo River derby.
"Things have changed. There were departures, injuries, absentees, and most probably it's the same on their side.
"We are here to work with more concentration, seriousness and desire to try to go as far as possible."
For Congo's coach Barthélémy Ngatsono "The objective is to qualify to the second round."
"Facing DR Congo is not an easy mission. The most inspired team will have control of the game and know how to act in time.
" Small details could decide the winner."
Congo will appear in CHAN for the 2nd consecutive time, after reaching the quarterfinals in 2018. 
The Red Devils have lost only one of their 7 matches played in the competition (3 wins, 3 draws), and that was their very first match against Ghana in January 2014.
It was in Douala in 1972 that the senior Red Devils made history by beating Sudan 4-2 to reach the AFCON semifinals and fac hosts Cameroon, before eventually being crowned champions against Mali.