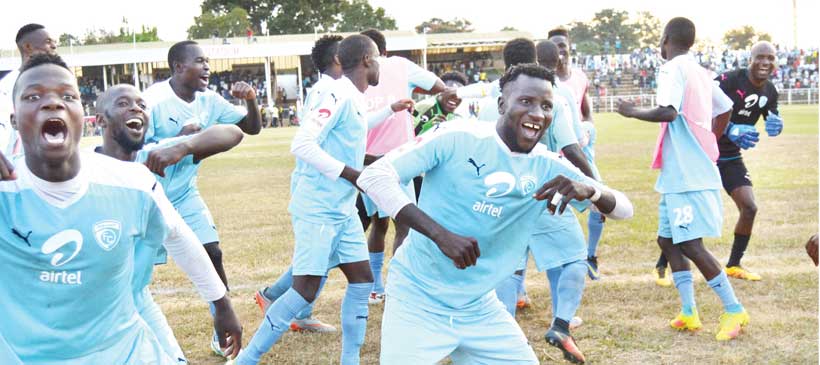 High scoring Silver Strikers, Red Lions and surprise package Ekwendeni Hammers have gone toe to toe at the summit of the TNM Super League following successful weekend games.
Silver have topped the 16-member log table for the first time this season under Zambian mentor Dan Kabwe, after defeating Blue Eagles 1-0 on Friday.
New signing Stain Davie scored the lone goal that saw Silver amassing 19 points from nine games, at par with second-placed Ekwendeni Hammers and deposed leaders Red Lions.
Hammers' fine run of form continued when they saw off Chitipa United 3-1 on Friday, before winning by a similar margin at Karonga United.
Sammy Phiri, Clever Kayira and Maneno Nyoni scored for Hammers while Bob Longwe netted the consolation for the bottom-placed Chitipa.
The strugglers have four points from nine games after they registered a rare win, beating Moyale Barracks 3-2 on Sunday.
Former Silver striker Matthew Sibale, Alex Chipala and Muhammad Baison scored for the coach Alex Ngwira-led Chitipa whereas Clifford Fukizi and Hassan Upindi responded for the Mzuzu-based soldiers.
Previous leaders Lions also battled to a six-goal thriller in 3-3 stalemate with in-form Civil Service United on Saturday before registering a barren draw against Eagles on Sunday.
Civil are on sixth place with 16 points whereas Eagles lie 10th with 10 points.
Down the table, Blantyre giants Nyasa Big Bullets and rivals Be Forward Wanderers are on eighth and 12th places respectively with 12 and seven points after they drew 1-1 and 0-0 with Ntopwa FC and Mighty Tigers.
Hendrix Misinde scored for Ntopwa who thought they had ended Bullets' 98-game unbeaten home run, only for Hassan Kajoke to strike late at a deserted Kamuzu Stadium and earn the holders a point on Saturday.
On Sunday, struggling Wanderers could not find a way of scoring past Tigers whose new coach Trevor Kajawa must been happier.
Results:
Friday, 15th January 2021
Blue Eagles 0 Silver Strikers 1 (Stain Davie)
MAFCO FC 2 (Stain Malata, Alexander Sikwambe) TN Stars 1 (Chiletso Zoya)
Chitipa United 1 (Sammy Phiri) Ekwendeni Hammers 3 (Bobby Longwe, Clever Kayira, Maneno Nyoni).
Saturday, 16th January 2021
Nyasa Big Bullets 1 (Hassan Kajoke) Ntopwa FC 1 (Hendrix Misinde)
Civil Sporting Club 3 (Muhammad Sulumba x2, Ranken Mwale)
Red Lions 3 (Chikoti Chirwa, Ronald Pangani, Paul Kansungwi)
Karonga United 1 (Crispin Mhangana) Ekwendeni Hammers 3 (Mabuti Msiska, Zikani Kasambara x2)
Sunday
Blue Eagles 0 Red Lions 0
TN Stars 1 (Laurent Banda)
Kamuzu Barracks 3 (Davie Banda, Marshall Maluwa, Zeliat Nkhoma)
Be Forward Wanderers 0 Mighty Tigers 0
Chitipa United 3 (Clifford Fukizi, Hassan Upindi).
Moyale Barracks 2 (Mathews Sibale, Alick Phiri, Muhammad Byson)