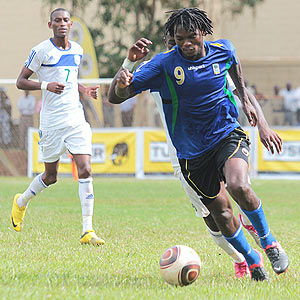 Tanzania's veteran goalkeeper Juma Kaseja has said the Taifa Stars are eager to get going at the African Nations Championship (CHAN) on Tuesday.
He said this as Tanzania meet neighbours Zambia in Limbe in a Group D opening match in Cameroon.
Kaseja told Daily News of Tanzania that he was encouraged by the positive attitude which the squad is showing in Cameroon.
"The mentality of the players is growing and are all eager to feel the glimpse of playing in such high profile football contest on the continent. I believe that we are better poised to begin the competition positively by winning our contest against Zambia which will help us a lot to boost our confidence prior to the follow up matches.
"The competition is here and they need to prove to people that they can do it and I strongly trust in them to do the recommendable job for our nation. We just need to give them full backing and always aim to win the first game which will surely provide the way forward as far as the entire contest is concerned," Kaseja told Daily News.
Tanzania are deemed as underdogs at the tournament but coach Etienne Ndayiragije remains optimistic that they can pull a surprise.
The coach has been brave enough in drafting in the squad under-20 players Pascal Gaudance, Jackson Samwel and Abdulrazack Hamza.
"It is important that we get into the habit of including upcoming young star players who will gain a lot of exposure by being part of the big tournament," he told CAF website.
Ndayiragije has mixed it up with young players and experienced ones including Kaseja of KMC FC and Simba striker John Bocco who is the one to watch.
There were minor threats in Limbe Stadium where Tanzania are playing after an explosion was overheard. However, Tanzania are ready for the show