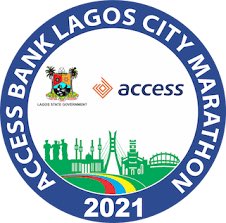 The 10km family fun run Lagos Access marathon  which normally attracts over 75,000 runner have been cancelled.
The organizer confirmed this ahead of the Silver label Access Bank Lagos City Marathon.
Despite the surge in confirmed cases of COVID-19 in Nigeria, the marathon race will go ahead  this year with all COVID-19 protocols to be adequately observed by participants.
The marathon will also serve as a qualifier for the Tokyo Olympic Games and has been scheduled to hold February13 in Lagos . 
This year's marathon will have a reduced attendance from over 100,000 to 300 elite athletes due to COVID-19. 
The race will start by 6:30am at Western Avenue, in front of the National Stadium Surulere, opposite Teslim Balogun Stadium. 
The finish will be in front of Eko Atlantic City, Victoria Island.
According to a statement on lagoscitymarathon.com, the 10km family fun run which normally attracts over 75,000 runner have been cancelled .
This year will see total of about 30 international elite runners , 40 local elite runner and about 200 educated and enlightened fun runners and those that are coming from different parts of the world for Tokyo 2020 Olympic Games Qualifiers.
The statement further added that the Lagos Sports Commission will work with the Office of Lagos State Governor and security agencies to ensure that there is a curfew between 5 am and 10 am on race day.
The race will be broadcast live on all television and multi-media channels to ensure people are not on the street to cheer runners, the organizers of the London Marathon adopted a similar approach.
All runners must as a matter of COMPULSION wear a face mask into the start area.
There shall be multiple waves at the start to ensure proper spacing of the runners. 
Mist disinfectant sprayers will be mounted at the call area which all runners must pass through after being temperature checked.
Hygiene stations will be set up at the start and the finish areas.
Runners shall be expected to have their face mask on at the start point and must run with it for the next 600m to 800m.
Below is the prize money 
42km ACCESS BANK LAGOS CITY MARATHON 2021

 

PRIZE MONEY FOR MEN AND WOMEN

1st Position
$30,000
2nd Position
$20,000
3rd Position
$15,000
4th Position
$10,000
5th Position
$5,000
6th Position
$3,000
7th Position
$2,000
8th Position
$1,000
42km ACCESS BANK LAGOS CITY MARATHON 2021

 

PRIZES FOR NIGERIAN MEN AND WOMEN

1st Nigerian
₦ 1,000,000
2nd Nigerian
₦ 750,000
3rd Nigerian
₦ 500,000
4th Nigerian
₦ 300,000
5th Nigerian
₦ 250,000
6th Nigerian
₦ 200,000
7th Nigerian
₦ 100,000
8th Nigerian
₦ 50,000