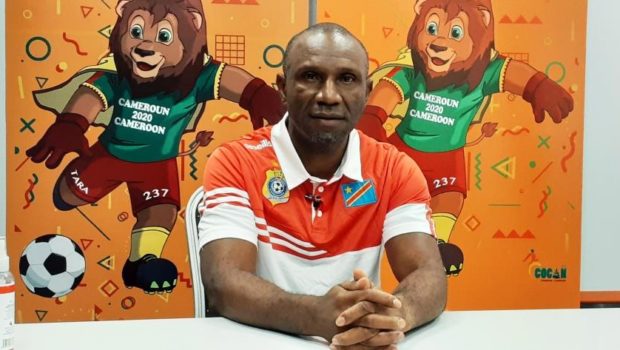 DR Congo head coach Florent Ibenge says his side will not be seeking for a revenge but to be focus when they play Cameroon in the quarter finals of the Total CHAN competition.
Two times champions DR takes on hosts Cameroon at the Japoma Stadium in Douala with a place in the semifinals at stake.
The Leopards lost to Cameroon in the 2016 edition of the tournamen but went on to lift the title.
Ibenge in his pre-match conference said he will not be dwelling on that loss when both side clash.
"I don't take football in terms of revenge," DR Congo coach Florent Ibenge said, referring to his side's loss to Cameroon in 2016 edition in Rwanda. 
"We lost to Cameroon in 2016, now we are in 2021. 
"For 90 minutes, you do whatever it takes to win. 
"This is a new game with new players, the only thing that did not change are the two coaches,"he added.
Ibenge was Leopards' coach when they won the title in 2016 despite losing to Martin Mpile led Cameroon in the group stage then.
 "We like to play in front of the public. 
"We have been deprived for a long time, now there will be people at the stadium.
"I've always said it's better to play with a lot of people even if the audience is against us.
"We do this job a little bit for that," concluded Ibenge.
"We came here with the idea of ​​going as far as possible. 
"This is the speech I give to my players. 
"Just because you have snags doesn't mean you have to look for wizards. 
"We are focused on our game and we don't want to deny the reality. 
"We are aware that the disease exists. 
"Where did we catch him? 
"We don't know anything about it, but we don't cry… 
"We are not in this psychosis which will distract us.
" If this Saturday, we still have 10 players less, we will play without crying, " promised Florent Ibenge.
The Leopards are playing in CHAN quarterfinals for the 4th time (2011, 2014, 2016 and 2020), having gone directly to the semis in 2009 with just 8 teams participating then. 
This is a record that no other team has achieved in the competition.
Tickets are already out of stock with the game set to kick off at 20:00 local time (19:00 GMT).
Only 25% is allowed due to COVID-19 restrictions.